MistressMinako
(?)Community Member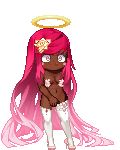 Posted: Mon, 01 Nov 2010 02:37:43 +0000
No, JK, thank you for all the effort you and the other devs put into this event. I know that it wasn't easy for you guys to code and sprite on a bare-bones crew, and with all the server cycles I'm sure that you've been pulling a full weekend shift when you would probably much rather enjoy your Halloween.

I understand that you have done and are doing the best that you can. For what it's worth, I've really enjoyed the event for more then just the gold. I had tons of fun farming to my 5K pumpkin fluff badge and met lots of people I otherwise might not have and I'm glad :>

Edit: And I mentioned this in another thread, but I'll repeat it here: I like the idea of a roving boss that takes lots of people cooperating to buff, heal and fight (and revive if need be). Yes, missing Jack's reward a couple times was frustrating, but I enjoyed crewing with people I've never met, and the rallying that went on as we chipped away at Jack's heath point by point. Jack reminded me of those three days I spent back in 2008 waiting for Kat's doll, and the rush of fighting a boss that wasn't chained to a little room and couldn't be accessed at will.