emmapeelwannabe
(?)Community Member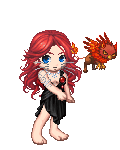 Posted: Wed, 01 Aug 2012 23:34:56 +0000
Greetings, purveyors of literary art!
My name... well, you need not know my
real
name. Suffice it to say, my name begins with the tenth letter of our glorious Latin alphabet, and is indeed a Latin name.
On to my 'samples'.
I write poems, monologues, and short stories. What I do
not
write, are essays. Essays are the bane of my life.
Examples of poems;
Rot

As I lay me down to rot
I must remember what I've got
A railroad spike, rusty and red
And on a pike, a severed head.

As I lay down to decompose
Remembering to count my toes
One is missing, one is broken
One's inside an empty Coke can.

As I lay me down to moulder
Remember that you're growing older
And that despite your efforts to save
Yourself, you've got one foot in the grave.
Reaching for the Stars


Why

Can't I

Be perfect?

Be a bird on the wing

A song of a king

A flower blossoming true

Why can't you

Think I'm perfect?

If just one

Person

Believed in me

I would believe in me too.

A sharp sweet shock

A hasty retreat

From my taste of victory

Taste of madness

For that is where perfection lies

Beyond the hills littered with those who

Were almost there

It's not fair,

That we should be treated this way

Our hubris, reaching, reaching for the sky

Punished so harshly,

We are unloved, undone, unscrewed

From our sockets

And sent to the lonely, distant moon

Because we reached for the stars.
An example of a short story;
"Happy Birthday..."

She smiles at me wanly.

I look at my single present, wrapped with great care in brown paper, held together with string. It's simple. For us, everything is simple. We are trapped, and materials are scarce. But she has traded for, and gathered, this paper, this string. She has swapped things that we need with the others, so she could wrap my present. The sentiment makes tears well up in my eyes. Even now, when we have so little, she still wants to make things better. To make things as good as they can be. What the present is hardly even matters, compared to this display of love.

She is looking at me with worry in her beautiful brown eyes.

"Aren't you going to open it?"

I nod, too choked up to speak. This show of emotion is rare for me. Usually I'm stoic, the strong one. But the reality of our situation suddenly hits me. We are possibly going to be captured. If we are, we will die. There is no escaping that fact.

We are Jewish, and we are gay. Both would seal our fate.

The others know a little of us. Not quite as much as one might think, considering how long we have lived together in this cellar.

We have lived so long in the dark. There is a gas light, but we are only allowed to have it on for three hours a day, to escape suspicion.

I haven't been outside in three years. I miss the sun. I miss the trees in the park, and watching the birds with my lover. I miss making love to her. Neither of us have the energy for such things nowadays.

"Sara."

I slowly pull the end of the string bow. The knot unravels, slowly, so slowly. I gently roll the piece of rope up into a little ball, placing it to the side.

Then I unwrap the present, doing my best not to tear the paper, so it can be reused, or traded with the others. As I lift the final flap, I close my eyes. I am making this last.

After a few seconds, I open my eyes.

A small toy rabbit. Sewn painstakingly, every stitch perfect. Stuffed so it isn't too firm to the touch, but is soft. It has kind eyes, made up of only a few stitches. And it has a fluffy tail. When did she make this?

I don't realise that I have spoken my last thought aloud, until she replies.

"When you were sleeping."

And suddenly the barriers burst, and I am sobbing in her arms. She strokes my hair as I cry.

"There, there, love. There, there."

"Happy Birthday."
Now that you have sampled my work, on to my prices.
I'm afraid that I don't work for free. Oh, I would that that were the case. But in this community, as in every other, money speaks. And for me to get the things that I would like, I need gold.
For an
8-line poem
, I charge
15k
.
For a
16-line poem
, I charge
25k
.
For a
32-line poem
, I charge
40k
.
For a
short story
, I charge
75k
.
I shall leave you to digest my prices.
Farewell!
P.S. This is intended to come off as more than a little bit pretentious. XD Consider it part of the decor.