Casca 7
(?)Community Member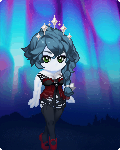 Posted: Thu, 26 Jun 2008 23:20:02 +0000
Hello all. I am looking for one lovely writer to take home this lovely OMFG box! *holds out for world to see then realizes there is nothing actually in hands* Well, this computerized one will have to do.
The Rules: (there are a lot, but i hope that doesn't keep you from entering)
1) Keep to the ToS.
2) For the sanity of us all try to use correct grammar and spelling. Archaic grammars and spellings or British spellings are fine given the nature of this contest. *u-hem*
3) The poem must be one of the following types of poetry: sonnet (Shakespearean or Petrarchan are both fine), blank verse that ends in a rhyming couplet of the same feet and meter, Villanelle, Pantoum, Ghazal, Cinquain, Diamante, Limerick, Quatrain, Terza Rima or concrete poetry -- nearly anything with a meter is fair game but I will take into account the complexity of the poem when judging. Please tell me which one you are attempting. Thanks!
4) No Haikus, or free verse
5) If there is another type of poetry that I have not listed that you would like to try, just pm me and I'll let you know if it's a go or not.
6) Please don't pm me with your actual entries. Post them here. Exception is rule 16.
8 ) Please make entries no more than 30 lines long. This means make it UNDER 30 lines. Two people have already submitted poems that break this rule >.<! They will be void.
9) No more than two entries per person. If you give me only one that's fine too.
10) Only the first 30 entries count. (This is the last time I change it, sorry >_< )
11) The deadline is when there have been 30 entries (this does not mean 30 posts) or the end of July, whichever comes first.
13) I am judge. My judgment will be final. Or your poems judgment... whatever. Unless my aunt decides to help out, in which case, what we say is final. *edit* She has decided to help judge so hopefully that will make things more fair.
14) there is no entry fee
16) If you have a question about whether your poem fits the guidelines, you may pm me with a question. If you don't know what Terza Rima is or Iambic Pentameter, Wikipedia is a good place to search, but I will answer questions if you need me to. I promise I won't bite. smile
!!!WINNERS!!!
1st Sonnet for War by Jonni Mnemonic
2nd Icarian Dreams by Bella Ayomide
3rd Storm Sonnet by Maolan Green
HM+ Crush by xXFierce_iz_ T O A S TXx
HM Waiting for You by Zarlune
HM Snow by Nano_Quill
Now the part we all love:
!!!!!!PRIZES!!!!!!!
New prize list because of grant from Mahayr! (everyone give her a big hug if you see her!!!)
1st - OMFG Box
2nd - 7500
3rd - 5000
HM - 2500
HM - 2500
HM - 2500

Everyone Else who entered - 100g each OR small Item worth 100g or more.

Hear that people? Even though there are less places, everyone wins something of the same value of what used to be 5th place and the honorable mention! Thank Mahayr! She and her grant giving charity are amazing! blaugh
Oh, but after judging, there was one HM that stood above the others so I'm adding an extra 500g to it from my pocket. So HM+ is really fourth place and gets 3000g blaugh
If you try to submit published works, you will be disqualified and reported! You have been warned.
I'll mark your name out once I have started the trade to give you your prize just so I can keep up with everything.



calidreamer11




Maolan Green




Fire Rock Angel




Yadda Yadda BlaBlaBla




Jonni Mnemonic


cat4452
Zarlune
Nano_Quill


Send Me A Cool Breeze


bumble bee 7447
Lord Haeden
Viciousmiss
MyMeteora81
Solomon the Demon King


silverback08


Lance Calvis


XxDistressed PrincessxX


AceOfAce
romans888


xXFierce_iz_T O A S TXx


fruitxsalad


Bella Ayomide


Astaire
juliafied