Ringoringa
(?)Community Member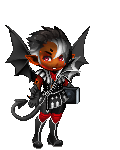 Posted: Thu, 15 Nov 2012 00:00:17 +0000
I can't speak for everyone, but it generally has to do with one of two things. Either the character has some incredibly charming quirk, or there's something about them that makes the audience feel for them. I don't know much about Han Solo or Tony Stark, but Snape and Zuko had attitudes that, while not justifiable, were pretty much a direct result of their not-so-happy childhoods. Snape was bullied mercilessly by Harry's father, the only woman he ever loved was murdered, and so on and so forth. He wasn't a great person, but he was a great character, and he was a joy to read about. Zuko's past was even worse. You have to remember that he's just a teenager at this point. A teenager that wants nothing more than to make daddy love him. You see it in real life all the time; the parents are horrible and abusive, and the child is willing to do anything for their approval.

Mako failed, I think, not because his behavior isn't understandable given his past (orphaned young, had to take care of a brother and tried sheltering him from the world while taking the brunt of the burden onto himself, etc.) but because, well, we never really see much of it. Zuko's history had so much detail. You see that little boy begging his father to show some mercy, just to get fire to the face. You see his mother, the only person who ever seemed to care about him, vanish one night, never to return. You see him simultaneously reject and rely on his uncle. You see him struggle even throughout the series with every decision he makes, until it finally gets through to him that he's not making the right decisions. Heck, you see him reunite with his uncle afterwards, and you don't have a soul if you didn't cry as hugged. That scene makes me tear up every time.

Mako, well, you didn't see anything but him being a jerk. He never appeared to struggle with his decisions. He just sort of moved through life being unpleasant to everyone. He helped out, sure, and he had some entertaining moments; I liked the scene where he sneezed fire. However, that scene didn't feel natural, simply because it was so out of character for him. I was in shock when he got all lovey-dovey over Asami not because it wasn't funny, but because they hadn't set up his character in a way that made that something I could believe. Characters, at least the 'unlikable' ones, need development to keep them fresh and entertaining. Mako got none of that. He was a jerk, he stayed a jerk with maybe one or two out-of-character laughs, and he ended pretty much the same. Compared to Zuko, who was an entirely different person by the end of the show, he's just a complete drag.

Character development, along with certain aspects that make them more interesting to the viewer/reader, are vital to the success of jerks in fiction. You need to be able to have the audience say, "You know, this person is kind of a jerk, but I can sort of understand why, and I want to know more about them to help me better get why they are the way they are."