Airship Canon
(?)Community Member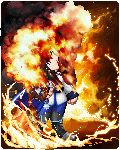 Invisible Genius
4,950 Points
100

100
Posted: Sat, 06 Oct 2012 10:31:50 +0000
A
l
l
i
s
l
o
s
t
a
g
a
i
n
.
.
.
B
u
t
I
'
m
N
O
T
g
i
v
i
n
g
i
n
.
.
.
I
w
i
l
l
n
o
t
B
o
w
!
I
w
i
l
l
n
o
t
B
r
e
a
k
!
I
w
i
l
l
s
h
u
t
t
h
e
W
o
r
l
d
A
w
a
y
!
...plot events..? [Title Full]
I suppose, it would make sense, that as a creator, that you'd obviously feel a connection to your own creations. If you couldn't invoke that connection with yourself, how could you hope to invoke that with others? (Well, the answer is obvious, that perhaps, you've distanced yourself from the characters- especially ones you know are say, use of the , and you, as the creator of the work already may have planned out events- allowing you to already know the outcomes of their plights.
But I really gotta ask this..
I've been at creative-writing for quite a while now (mostly fanfics. (Most never even end up on FF.net either) But I do have a continuing original 'verse that I keep writing small bits on, and I've got several plots for, but I haven't really gotten past "Initial Action Block" (where I start writing something, but shortly into the rising action, I get Writers Block all to hell and back and can't keep going) with any of it...) but I've recently encountered something.
Now, I've written a fair deal of character deaths, and a few of these are "Joss-****ING-Whedon" class. (I do have this notable questioning to Whedoning a character early, but that's thoughts on audience reaction. I've got this want to have people not get ****ed off at me early-- it's kinda natural. (and I start getting that feeling like "why bother if no one cares"... (Part of the reason why the "Zion-verse" hasn't gotten anything done with it. I don't know how I'd share it. (I suppose I could try to get it (well a novelization of one of the major points (referred to as "Beyond the Sky", a story centered around the "unsung heroes" of the "Third Zionic War", a major conflict in the 'verse- the one that lead to the destruction of a certain nation called "Giretsu&quot
wink
) published, but I'm not to confident I'd succeed, and with a site like "Fiction Press" I think it'd just get overwhelmed (because oh look, it's another fantasy story...)) and that leads straight to Writer's Block.)) But a recent write up of a death of a certain character made me feel down right
terrible
. In one part, it's because I know I'm well, Whedoning (which, while that may turn off a few readers, they can either "Don't Like, Don't Read", or whatever-- they can get the hell over it (like they could with a certain "Arthur" in something else)), but I don't know, I outright disturbed myself with this one.
I planned for this character to die fairly early on- I went into it treating her as standard Sacrificial Lamb (running on the fact that, as a fanfic, her popularity in the fandom would transition her to Sacrificial Lion status)... but by time I actually got to her death (which actually had to happen, sorta like Kamina's had to in TTGL, but for vastly different reasons), which I had planned on being well "vivid", I found that I couldn't go thru with it- and ended up expediting a scene that was supposed to drag on for a while, and well, "self-censoring" because I had disturbed myself so damn bad. (Well, at least I didn't cold-feet my way out of it. Although I was really tempted to, but I had to keep reminding myself that if her death didn't occur, things *wouldn't* change. She lives, my plot dies- her death is absolutely critical to it.)
So, thus my question:
Has this situation happened for any of the rest of you? Have you, ever set out with a plot event in mind, but by time it was time for it to occur, you just find it horribly hard to write, (and/or, like in my case, start getting sick to the stomach trying to), simply because you're disturbing yourself
that
bad?
If so, did you see it thru? Or did you start coming up with ways to avoid the scenario altogether while keeping your plot intact?

Or am I just a wuss for even bringing this topic up?
For those who Do encounter this issue, how do you cope with it?
Do you seek immunity? Or something else?
Shameless Link.
I
w
i
l
l
n
o
t
F
a
l
l
!
I
w
i
l
l
n
o
t
F
a
d
e
!
I
w
i
l
l
t
a
k
e
y
o
u
r
b
r
e
a
t
h
a
w
a
y
!