The Stranger Seid rolled 5 10-sided dice: 10, 2, 3, 2, 1 Total: 18 (5-50)
The Stranger Seid
(?)Community Member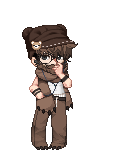 Posted: Sat, 16 May 2009 07:06:30 +0000
In this challenge you use dice, the procedure is as follows.
Steps:
1. Reserve your post and roll one, one hundred sided dice.
a. If you get a number higher than the AAY, you win.
b. If you get a number lower than the AAY, you lose.
2. Describe how you won or lost.
It's that easy. Enjoy!
Rules- S.O.P. Implied
Instantly Bannable if Broken
1. Do not erase your post to get a higher score on a re-post; we will be able to tell.
2. When posting, there is a minimum of at least two lines for your battle (not including TNP*).
3. If you roll a lower number than the AAY*, make sure that your character is defeated.
Guidlines
Etiquette and Common Sense
1. Try not to get discouraged. This is a take your beatings and your victories type arena.
2. Refrain from sandwiching posts; I appreciate the enthusiasm, but don't do it.
3. No fleeing a match. Forfeiting is acceptable, but repair costs are getting too high.
4. Do not reserve a post for more than 3 hours; it's inconsiderate to the person below you.
*AAY- Avatar Above You
*TNP- To The Next Poster
PrizeFight!
No New Prizefights...
Winner's Circle
Valgaror the Vicious- First Flawless Victory (Score: Stranger Gallon)
Prize Money- 1,000gg
Nyrk Saron- First Fatality (Score: le Voleur de Thym)
Prize Item- Scurvy the Rubber Ducky
SeductiveHamHam- Narrow Victory (score: Completely Uncensored)
Prize Money Awarded by Nyrk Saron- 40,000gg
Nazynri- Last Man Standing (score: winterraven89)
Prize Money Awarded by Nyrk Saron- 50,000gg
The Flying Neko- Switcheroo (score: Speed Freak)
Prize Money Awarded by Skutz- 10,000gg; split
The Flying Neko, Mechanical Phoenix, Cafe au Vanilla- Stooge's Stalemate
Prize Money Awarded by TomtaJolz- 20,000gg; split
Speed Freak - The Dice Gods Hate You (score: Butterzworth)
Prize Money Awarded by Nyrk Saron- 25,000gg
P3QT- New Year's Knockout!
Prize Money Awarded by Anonymous- 50,000gg
Please let me know if you have ever rolled a 1 or 100 and I'll add you below.
Also, recently added, is the Warrior's Draw feature where I'll list people who have tied.
Just send a PM with the page number and I'll post it up ASAP. Thanks!
Flawless Flourish:
Valgaror the Vicious,Rebecka Martin,Mr Grenade,Completely Uncensored,Little Stories,golden k o h e,Nyrk Saron,neil1,TomtaJolz,iSoul_Of_Darkness,Amiante,Facade of Enmity,Rogue Juggernaut,Karhs,Extra Shine,DarkSamus7,Loaf of Gum,Nazynri,Paladin 2012,Aqualio,Fion Zshar-Ptitsa,Kazuma Kaito,ragdoll240,BM Vivi,Alice Invisible o0o,xXLightningAngelXx,Lord Discord,Zooomie,Butterzworth,Dr Wolfy,Champion Hercule Satan,imtammy,Gorilla Radio,Call Me Arizona,LittleLilyKitty,Resone,Le Avant Garde,Visher Leonidas Wulfgar,woodz dragon,I-Fel Apollyon Stollen-I,Kane Obscurum
Warrior's Draw:
Digital People vs. Completely Uncensored,wolfeather vs. Completely Uncensored,Little Stories vs. Viper the Femme,The_Blue_Passion vs. Elizabeth Elric,P h o b ! a vs. TomtaJolz,Fudgeh Poptart vs. Facade of Enmity,Varnyte vs. TomtaJolz,Alice Invisible o0o vs. Little Stories,Facade of Enmity vs. Little Stories,Fallen Promise vs. Varnyte,DarkSamus7 vs. Completely Uncensored,iSoul_Of_Darkness vs. Saint Of Beasts,Completely Uncensored vs. Blood Jester Loki,Karhs vs. Paladin 2012,Elizabeth Elric vs. Torcher Tecnician,Paladin 2012 vs. TomtaJolz,Zachary Charon vs. Emma of Bainbridge,Skutz vs. Nazynri,Paladin 2012 vs. Ichiban the Leader,ZainBloodbane_DIMNDKnight vs. Paladin 2012,Dr Wolfy vs. Felix Flywheel,Varnyte vs. Stranger Gallon,Cafe Au Vanilla vs Imtammy,Perfect Cherub vs SerendipitousQuintessence,Gorilla Radio vs Nokturnal Evisceration,Meteor Hammer vs Champion Hercule Satan,Brian_The_Elementalist vs Completely Uncensored,
I-Fel Apollyon Stollen-I vs Kane Obscurum,Superhero Dax vs Izurus
Fatality Tally:
Nyrk Saron,Stranger Gallon,Silent Mobius2,Pandora_B,apwincesz,Elizabeth Elric,ll-- Random_Emotion --ll,Lord Jamster,Digital People,Viper the Femme,TomtaJolz,McCage,Completely Uncensored,gummybazooka,Dr Question, One-EyedDragon,DarkSamus7,neil1,Blood Jester Loki,Karhs,Extra Shine,Drathi 1, Skutz,Aqualio,Forgotten_Nightmare,Nazynri,xXLightningAngelXx,AudiophiIe,Barrista,Unnamed Witness No 1,Raikuto,Dr Wolfy,Gorilla Radio,woodz dragon,electric_halfnhalf