Lightning the Lulu
(?)Community Member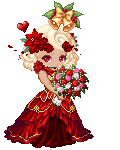 Posted: Tue, 09 Jul 2013 17:56:29 +0000
Haji Demon
The Legendary Guest
Haji Demon
The Legendary Guest
Haji Demon
The Legendary Guest


My wishlist won't be shrinking any time soon; as long as they keep putting one or two amazing (and high-priced) items in the RIGs, I won't catch up. It's just not possible. I'm not thrilled about that change in policy either, but it's one of the aforementioned issues I never complained about publicly here at Gaia.

Which anime? I'm not up to current with any these days. Well, not unless you count waiting for the next Seinto Oniisan OVA and carrying a torch for a second season of 07-Ghost.

I guess they're high because they're so old and go with so much? I sure wish they weren't. gonk
Same with me..they might come up with a blood+ item in future and that'll change everything for me
neutral
Haji from Blood+ so my current avatar..right now I'm trying to get a modus so I can get his hands too
They should make Saint Oniisan into an anime! just an ova is not good enough XD
I showed my mom Jesus with laptop and she asked me did I draw myself? I have long hair and a bit of beard..and I'm skinny like him..to top that, we even use same laptop XD
Like they did with FMA and Black Butler? Is that planned? I like the Madoka items, that's the last full series I watched.
I remember Blood+ being on Adult Swim years ago but never watched it. I was more into subbed Death Note in those days.
They should, I'd watch it religiously.
wink
One of my kids calls me Buddha because I'm stingy! I love Jesus's blogging, it cracks me up. Well nearly everything about that manga makes me laugh.
Yeah..like that..but no..its not planned, but I'm hopeful!
Blood+ has been around since a long time before DN..and I found it worth watching in both dubs and subs..they were different but really good...specially in the last episode when Haji spoke freely!.....man...now I've to watch it again
biggrin
XD Nice one!
I do feel sorry for Buddha in it...Jesus is just too impulsive XD I used to read the manga too, but I went on a break and then I forgot where I left it at..:T
Oh yeah...if your basic anime knowledge is good, you should watch Binbougami Ga! It is extremely hilarious..I havent seen the anime yet, just read the manga..you'll love it!
I've only ever seen the dubbed commercials on TV for Blood+. I'm not particularly attracted to vampire/demon/etc. type stories. I'm more attracted to stuff like Sayonara, Zetsubou Sensei.
I did the same with 07-Ghost, but it was more like the authors are so sporadic about releasing updates that I lost the thread of the story and RL took over while I waited for the next chapter. I imagine I will go back and catch up one day though.
The random miracles kill me. The roses and the bread, the fruit and animals? And I'm dying laughing. The author was quite knowledgeable about the particulars of both religions, too. Definitely eough to make it FUNNY.
What do you consider basic knowledge, like common tropes?
Despair!!! Knowing that people have not seen Blood+ has left me in despair!! XD Try blood+ its quite well developed..not at all like the usual vampire anime
Yeah..I wish they could make it a weekly thing atleast...
Yup XD I liked how they brought a goat as a gift in the ova....its like they are God who know everything but still have not recovered from the old era!
Yeah...it makes a lot of parodies in it
Heh. I used to have the mail alert for Meru's phone as my text tone. Seriously hilarious show.
Are you familiar with 07-Ghost? I don't know anybody else other than family (or back in the day, other Dattebayo FS fans) who has ever even heard of it. Loved that anime. I threw such a fit when they ended it without another season, then the stupid manga went literally months without a new chapter. I basically gave up and moved on but one day I'm sure I'll get back to the bishops.
That makes utter sense to me, though, considering man makes up his gods as he goes along and the majority of Japanese people (being atheist) would be inclined to notice the absurdities the respective religions contain.