Miss Exorcist
(?)Community Member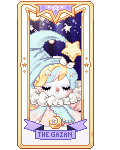 Posted: Wed, 23 Oct 2013 10:02:38 +0000
Welcome to Gaia! As you're starting out its nice to have a few items in your inventory to play with or to sell in the marketplace, I want to make it a bit easier for you guys by giving you a trade full of items! There's also a few resources listed in the 2nd post for you to check out
smile
Feel free to stick around and chat!
Rules:
Your account must be less than a month old.
You must have at least 5 posts in the forums.
Please don't apply if you have friends who will donate to you, if you plan to open an art shop soon or have any ways of jump starting your account worth! This is just for people without ways to get gold quickly.
You must have your trading pass, otherwise I can't send you items!
If you go to the 'my gaia' page it will have your account age and amount of posts listed
The Form:
[color=cyan][size=18]
Gaia Age: post number of days here
Number of Posts: post number of posts here
Any Particular Items You Want: post the names of any items from the list or just say 'surprise me!' to get random items.[/size][/color]
Example:

Gaia Age: 2 days
Number of Posts: 6
Any Particular Items You Want: Spirited 2k11 Caroling Cap, Trap Jaw, What the Fluff Balloon, Silver Officers Badge, Lawl And Order Belt
Items Available:
Spirited 2k11 Caroling Cap
Trap Jaw
What the Fluff Balloon
Silver Officers Badge
Lawl And Order Belt
Jack's 2k13 Ornate Ribbon
Holiday Feast
Orange Guppy
Halloween 2k12 Throne of Bones
Missy Lavender Ribbon
Inverse Yellow Top
Black and Ash Floweret Branch
Were Tail
Wintry Snowglobe
Jack's 2k13 Ornate Vest
Rocky Ranger BB Gun
Tsunami KO Classic Buckle
Soft Black Underwear
Perfect Present
Silver Tiara With Onyx
Emerald Galaxy Grenade
Psychedelic Shimmer Starman Boots
Burning Pile of Summer Tops
Xmas 2k12 Bah! Humbug!
Black Strapless Bra
Gray Longjohns
Hoarded Snack Cakes
Pink Lily Boutonniere
Mid-Autumn Gift Bag
Yellow Guppy
Bloody Arm Sling
Tan Classroom Sneakers
Streamer Scarf
Sun Daze Marine Hat
Buccaneer's Bronze Pistolshiv
Stallion Black Polyester Necktie
Breeze Ruffled Skirt
Tennis Ball
Gold Starman Earring
Baseball
Anti-Fashion Lavender Hoony Tee
Lovely Genie Gold Bangle Bracelets
Blush Clown Makeup (high)
Baby Blue Toothbrush
White Clown Makeup
Blue Tank Top With Highlight
For my Bronies
Drop Dead Gorgeous Midnight Heels
Adventuring Contract
Yellow Space Girl Transparent Skirt
Yellow Space Girl Transparent Skirt
Green Jersey Top
Brownie Basic Shirt
Black Space Girl Transparent Skirt
Black Space Girl Transparent Skirt
Black Space Girl Transparent Skirt
Giant Green Eyeball
Crying Emote Mask
Bretelles Demonique
Bretelles Demonique
Bretelles Demonique
Giant Aqua+Navy Eyeball
Black Castaway Shirt
Neutral Emote Mask
Neutral Emote Mask
White Castaway Shirt
Flame Shirt
Giant Aqua+Navy Eyeball
Pearl Castaway Shirt
Giant Orange Eyeball
Neutral Emote Mask
Drop Earrings
Gonk Emote Mask
Neutral Emote Mask
Bretelles Demonique
Bretelles Demonique
Bretelles Demonique
Big Old Tire
Holiday Bunker
Blue Flame Shirt
Blue Flame Shirt
Cup Of Punch
Cup Of Punch
Alien Mask
Skittles Crazy Cores Hair
Castaway Pearl Shirt
Ghosty
Human F Potion
Green Flyswatter
Red And Maroon Reversible Hair Pins
10th Anniversary Zurg UFO Catcher
Facebook Team Jacket
Mantis Mask
Doomsday Party Placard
Right T Blox
Right T Blox
Sand Summer Top
What the Fluff Participation Shirt
Gray Peasant's Top
Gray Peasant's Top
Rudolph Gasmask
Long Red Socks
Long Red Socks
Dine and Dash Grape Jelly Toast
Tan Peasant Booties
Green Doggie Animal Balloon
Mutated Snowman
Mistletoe Headband
Blue Silly Hat
Goldfish Scarf
The 4th Amigo Guappa Hat
The 4th Amigo Lucki Hat
Titan's Legacy (Seed)
Green Silly Hat
Green Silly Hat
The 4th Amigo Dusti Hat
Basic Fishing Rod
Aspiring Alchemist
Deluxe Cat Ears
Kung Fu Panda (white belt)
Deluxe Cat Ears
Virtual Piggy T-Shirt
Old Boot
White Pebbo Feeder
Jade Peasant Booties - M
Long Black Sparkle Top
The 4th Amigo Lucki Coat
Rejected Olympics 2k12 Participation Ribbon
The 4th Amigo Guappa Pants
Space Monster Mask
The 4th Amigo Lucki Boots
Jack's 2k13 Ornate Cane
The 4th Amigo Guappa Boots
The 4th Amigo Guappa Boots
10th Anniversary Freshly Fished Sushi
Blue Seedkin
10th Anniversary Bargain Bin MMVII DVD
Gaia Tankoubon
Lunaire's Polearm
The Statue of Diedrichy
The Runaway King Broken Sword
Driftwood
Rhinestone Flip-Flops
Sharktooth Wings
Cool Female Goth Starter Boots
Diedrich's Cone of Shame
Mocha Lounge Jacket
Mocha Lounge Jacket
Android Damage Prosthetics
Android Damage Prosthetics
Leftover Tin Foil Hat
Hockey Mask
Mocha Lounge Pants
Neutral Starter Polo
Spartan Gloves
Helm of the Vikings
Herald of Chaos Factions