Gyptoega
(?)Community Member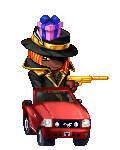 Posted: Fri, 11 Jan 2013 03:07:44 +0000
Actually, regardless that I lost everything in Resort world, I am neither upset or mad about it. Basically, I was donating to keep the game on and knew it was reaching it's end when it got to the point (It wasn't even doing any weekly events anymore or the game got to the point that some people couldn't play on it due to bug issues (lol that was when minecraft took over my time) XD).

Overall, I'm coming to face you today after months of being away from gaia wondering...

"How do you feel about viximo company and these games outside of gaia?"

As you know, when they first started doing this, we were all excited that we were going to get more games fast. However, I know most people didn't expect the games canceling out after putting so much money into it.

As of now, this is the list of games we lost during the time they started accepting the outside game approach:

Mahjongg Dimension (game fixing issues)
Backyard Monster (game upgrade)
Summer Springs (game ownership changes)
Resort World (not confirmed)

I feel like I am missing one game, but frontier skies game was originally a gaia made game. However there was a bunch of fixes and people took advantage of the game.

In the end, I don't know how you guys feel. I'm not asking you to agree or disagree with me, but I'd rather understand how everyone is at with these games now.

In my opinion, whenever each game was removed, I paid attention to most people who tried to fight for the game, who was upset that it was gone, and the people who tried to get answers. I didn't laugh at them, make fun of them, or degrade them because I kinda already know.... we were in the same exact boat. It was just at different times. The game was gonna sink today or tomorrow anyway.

Heck, even I believed that once viximo goes down, we're gonna lose monster galaxy unless they transfer that game to another provider or make it set in stone as a gaia game. Who knows. I play monster galaxy still, but I'm just waiting for it's time to run out, but hopefully for everyone's fun sake it will not.

In the end of loosing all these games, we gained maybe 2 games extra through the year: Chaos of Herald and Soul Crash.

I just want to hear where you stand. Will you still donate money to these games? Do you trust that these games will last more than a year?

I will express where I stand about these games. Out of all these years of supporting online games like nexon company, og, and other online games I've played. I'm probably not gonna support any more games here on gaia unless they prove themselves to stay for at least 2 years minimum just like I did with other online games I've played. My minimum was 2 years before I start supporting a game. I am gonna apply the same traits to any gaia game posted online.

So basically, I'm gonna stand aside for 2 years and let those who want to keep the game on support it. Monster galaxy maybe on the list, but not yet. I'm kinda iffy with it.

Overall, everyone who signed my petition I would have to thank you. Especially, the strong support for the first 100 signatures I sent off because I believe that helped a bit with extending the game longer than it did. However, I didn't not get enough support for the second round as I hoped to do another send off. At that time, it was on the too late marker. The strategy was not a failure, but it's kinda like it was a delay of the inevitable. I only told a few that when I was at the gaia panel the bad news about the future of Viximo games.

I wish you all well. I'll probably be back when a gaia event comes around. See ya later guys.