rainy day blues
(?)Community Member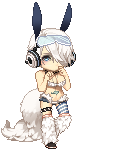 Posted: Thu, 20 Feb 2014 20:49:39 +0000
Phanna
rainy day blues
Phanna
rainy day blues
Phanna

I usually thank my anons by putting something in my siggy. They usually see it..or at least I hope thay do.
I see a lot of people start up threads thanking their anons, but that's a little over doing it I think.
Yeah, unless they have a lot of anons to thank...in which case, it's prolly a lot easier than putting it in your siggy. Myself, I would just have a link bringing people to my journal to thank my anons...but I have never really had more than one at any given time.
I don't think I've ever had a real one. Usually people don't venture far from their friendslist.
I see them more often around holidays and events myself. I don't stick to a schedule, I just gift when I feel it. Anyone on my friendslist though, I never go anon for, but they also won't chew me out for being nice.
xd Well then I have a long wait until Xmas.

Have people lied to you for donations at all?