Mississippi Black Velvet
(?)Community Member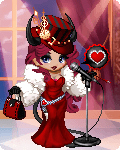 Posted: Sun, 09 Feb 2014 19:37:04 +0000

Hey, hey, hey!
Welcome to all you Valentine loving folks and to all of you anti-Valentine folks out there as well, yes I see you out there Stein.

So the name is Miss Black and with the help of Yeata Zi we're bringing you this user ran Valentine's Day thread!
There will of course be contests galore and non-stop silly posting because it's Valentine's day and you cannot be serious, so staph it just staph.

I had some cue cards of more things to say but I'm pretty sure Hassli might have ate them or fed them to Diedrich not really sure where they went to...And I'm babbling. Crap.
Uh....Yeah so welcome to our thread if you scroll further down there will be a list of various activities/contests and who knows what its for you to take part in.
So pull up a seat, get comfortable, and maybe have a drink? Lord knows I need one right about now I think I sweat all of mine out.
-Cue sad laughing-


Oh and on a side note there's a good chance there may be some anons lurking about please be sure to thank these kind anons when you have the chance.
Also, there's a good chance I may bestow little gifts here and there at random, because I'm a gift ninja and it's what I do.
/Awkwardly does a karate chop


wahmbulance Goody Bag Game has returned!!!!

Alright for those of you who are new to the thread or have forgotten I have a game I like to call goody bag. It's quite simple really just be the first 4 people to quote me when you see me post the words, Goody Bag, to be eligible for gold and prizes.

There is only one rule to Goody Bag and that is you're only eligible to win the 1st place prize one time. So if you win the first place prize but end up quoting me first later on in the day you're only able to claim the second place prize. All the other slots are free game though.

Good lucks kids and Happy Valentine's Day! C;


1st place prize - 5 mil + 4 items

2nd place prize - 4 mil + 3 items

3rd place prize - 3 mil + 2 items

4th place prize - 2 mil + 1 item





Round 1 winners



1st place - Tsunderest

2nd place - Lance Gambino

3rd place - BlueRain88

4th place - Yulania






Round 2 Winners



1st place - Lance Gambino

2nd place - Jayce Reinhardt

3rd place - EviCa

4th place -Shiki The Vampire






Round 3 Winners



1st place - BlueRain88

2nd place - XinYunMei

3rd place - Emo Kuromi Nui

4th place - Lance Gambino



wahmbulance

Links Out

wahmbulance

I also hear tell there's an anon gifting thread in the charity forum which you can find here tell them Miss Black sent you. wink


We have an NPC matchmaker quiz going on as well be sure to check it out Heart Breaker Cafe Matchmaker Quiz. Be sure to tell them Miss Black sent you. wink


Would you like to show the Devs and other Gaia staff members some love for this event? Please refer to this thread found here to show your appreciation for all the hard work they've done for this event. Tell them Miss Black sent ya. wink


wahmbulance

Finni freebie!!!!

wahmbulance
So Finni being totally awesome and a sweetheart to boot did a free item freebie for us in honor of her time spent in this thread.
You can find the item here on her profile, it's the little broken heart in the corner next to her name. Be sure to thank Finni for this because she really didn't have to but she did out of the goodness of her heart.
She will forever be known as the greatest bunny waitress The Heartbreak Cafe ever had.
crying

Rules


Hrm? What's that? Oh, rules yes rules! We have those...right?
I'm told that yes we do have rules you should follow while participating in this thread.
Obvious rules being please keep all content within Gaia's T.O.S
Please do not harass/flame/troll the other users. We like civil folks around here.
Also please make sure to tip your waiters/waitresses they're working hard to serve you after all.

Any other rules that I can think of will be forth coming but you should all know by now how to act like a civilized human being without all that high school drama you see on reality T.V.



wahmbulance Staff Annoucnement wahmbulance
Since the event is running from the 14th - 18th we've decided to keep this thread up until the 19th. So if you'd like to extend your contests by all means do so and if you need prizes or gold please shoot myself or Zi a Pm.
Thanks guys!