HououMinamino
(?)Community Member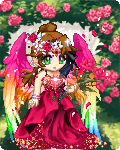 Posted: Mon, 02 Dec 2013 03:42:53 +0000
I am the wandering shadow of the night, the crow's son.
Tsubasa Yorukage
私は流離の夜の影。鴉の息子だ。翼夜影
Yorukage wasn't participating in the combat intensives, but he had to admit, he was curious as to what they were like.

After hearing someone remark that they wished they could watch, he got an idea.

What if everybody could indeed watch?

He needed something to do anyway, to take his mind off of his current problems.

So the crow youkai set about summoning a set of specialized minions that would be up to the task. They would act as flying video cameras of sorts, with eyes that could zoom in and out.

There was the risk, though, that they would end up being casualties of battle as the fights became more intense, so he decided to use the same spell on them that he used on most of his belongings--the one that would make them virtually indestructible. This spell, oddly enough, only worked on objects, not on people. He couldn't make a person damage-proof, and he was glad of it. Everyone in the world would be asking him for it so they could be invincible. And invincible people walking around picking fights would be no good.

The minions began to materialize out of shadow, becoming gradually solid. They were crows as usual, but these crows had antennae and varying eyes--huge and cyclopean, eyes all over the body, three-eyed...

This was, of course, so different angles and views could be taken and the recordings broadcast.

Now the only thing to do was spread the word. A few notes dropped onto tables or into the hands of students would, naturally, make the message spread like wildfire.

One of the flying cameras made its way to where Emily and Dexter were fighting, and began doing its job.

The others all split into various directions, searching for the action.

Yorukage smiled rather deviously, and watched with genuine interest as he sipped a cup of tea. This would really be fun to watch. He wasn't the unrefined, boorish sort that screamed "Rip 'em to shreds!" during fights, but rather sat back quietly and observed each combatant's strategies, attack methods, and skills.
One of my better ideas,
he thought, setting the cup down.

If on the off-chance he ever had to actually fight one of the participants of this tournament in the future (which was thankfully highly unlikely), he would have some idea of how to do it after this. But that wasn't why he was doing this. He was doing it for the sheer pleasure of combat viewing. It excited him in a way he couldn't quite pinpoint.

As the footage began to come in, he noticed a familiar face with large white wings.
It looks like Dexter's found a worthy opponent,
he noted.
It's too early, I think, to tell what the outcome will be...this will be an interesting match, that's for sure. I wonder how the others are doing?
A girl he'd never seen before caught his eye as she brought down a horned contestant.
She'll be a good one to watch. Genuinely tough, strong fighting spirit, and cutthroat. But whether she's strong enough to engage one of the Fallons...again, too early to tell. Either way, she's someone I'd like to meet after all this, I think. I wonder if my sisters would say the same?
The cameras hadn't found Tyler, Matt, or Lulu yet, since they were pretty well-camouflaged and not really fighting at the moment, but one had focused in on Shasta now. A quick fight, and the nymph was on the move. The minion followed silently.

Yorukage wondered when the Fallons would make their appearance, but he knew that when they did, he was guaranteed to see some good battles. He wasn't sure if Asthore was participating...she didn't seem the type. Cyrus...knowing his roommate, definitely not. Who else...Saria for sure would be there. The storm that was raging didn't seem natural, and he thought it might be her doing, since he didn't know many other spellcasters or people who could control the weather.

It then occurred to him that his sisters were enrolled in Combat class. Were they participating in this tournament? If so, he wasn't sure how far they'd get. They really weren't that strong, and as much as he hated to admit it, they probably wouldn't last very long against some of the people he'd seen so far.
One day I'll surely reach the place that can heal my lonely heart.
何時かは屹度辿り着ける。孤独な心癒せる場所。
I walk alone in the mist of the shadows of the night, between light and darkness.
一人で夜の影の雰で歩き、光と闇の間に。