Grimalkenkid
(?)Community Member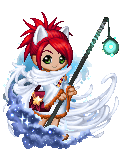 Posted: Sat, 02 Feb 2013 02:03:00 +0000
X
X
X
X
X
X
X
X
X
X
X
X
X
X
X
X
X
X
X
X
X
X
X
X
X
Lillian chewed on her fruit as Shasta listed off his classes to Arazia. They were cousins, so it was only natural that they knew what classes the other was in. It was a bit disappointing to hear that she didn't have any classes with the nymph boy, though; she would've liked just hanging with him to study. It was around that time that Cyrus came up, introduced himself, and immediately made the same mistake that most people made when seeing Shasta for the first time.
Can't say I blame 'im, though,
she thought, wiping her mouth of the milk she had so gracefully snorted.
River looks like one nice woman. Wonder if he had cross-dressers back in his time...
The ghost was, sadly, oblivious to the snickering around him as Shasta introduced herself. He was much too glad that Arazia was feeling better and that he was meeting new people, which was his favorite thing to do.
"It is a pleasure to meet you, as well, milady,"
he said, his cheeks going a bit red at the word 'handsome.' No one had ever called him that before.
Beside him, Lillian was trying very hard not to burst out laughing. Not just for Shasta's sake - since she didn't want to interrupt the charade - but for Cyrus's, as well. She didn't know him as well as some of her other friends, but she knew better than to laugh
at
him. The ghost was very sensitive, but it certainly wasn't a bad thing.
Only bad if he thinks some'un's makin' fun o' 'im. Dangnabbit! Why'd they hafta meet like this?
While the entire situation was funny, the ginger werewolf sincerely hoped that Cyrus wouldn't take it the wrong way.
But it wasn't to be. As soon as Shasta switched back to his normal voice, the ghost's eyebrows shot up and his entire form paled, as if he were a photograph that had lost all its color. He didn't even move for a moment as the two nymphs laughed; he was still processing what had just happened. For a moment, he heard the laughter of the women of court, jeering at a maid who had just tripped over her own skirt hem. Lillian wasn't joining them, but the hand over her mouth made it clear that she was holding back some kind of reaction.
At least she is not joining them,
he thought before blinking and bringing his senses back to himself. With one swift motion, Cyrus was on his feet again, not caring if he was on the floor or even if he was phasing through the chairs.
"I am glad you find my ignorance so amusing, sir,"
he voice holding none of its normal warmth. His eyes also reflected the anger he could feel boiling up inside. Anyone else would have just been mad, but Cyrus was a ghost. They felt things with much more intensity than most living beings did.
"But I do, in fact, know that men wear skirts. I have seen the Scots charge whilst wearing their 'skirts,' and I have never seen anything so terrifying."
Lillian had stopped chuckling, now very worried at the anger she heard coming from her friend. She wondered for a moment, if this was how he looked when facing an enemy. He was, after all, a soldier and guard during his life.
"My mistake came not from the dress but the face, Sir River,"
the ghost continued. As he spoke, Cyrus's entire form began to turn red, making him look like a blood-soaked soldier.
"You could rival even Lancelot's penchant for disguise, good sir. However, further deception was unnecessary. You could have just corrected my error without the laughter."
The werewolf couldn't handle it anymore.
"Hey, Cy? I dun think he meant nothing by tha'. Can ya jus', I dunno, forgive 'im? Please?"
Lillian folded her hands in front of her, giving him the biggest puppy-dog eyes she'd ever given before. She really didn't want to see a ghost - especially one of her friends - go bad.