Pharaoh Misa
(?)Community Member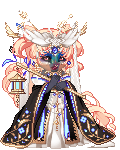 Posted: Fri, 21 Dec 2012 20:09:52 +0000

╔═☜☆☞══════╗
KATRA
╚══════☜♥☞═╝

Oh how I wish
For soothing rain
All I wish is to dream again
My loving heart
Lost in the dark
For hope I'd give my everything
Alec Dawson pulled the limo into the parking lot of Topsy-Turvy Academy and couldn't help the chuckled that escaped his lips.
Such a funny name for a school,
he thought to himself. He pushed a button that rolled the window behind him down; looking into his mirror, he saw his only passenger, the beautiful and talented, Katra Kenyon. His heart almost dropped as he noted the sadness in her gold eyes, the way her right hand rested against her small face, noted how she sighed once, before sitting up and brushing her long hair out of her face. Gold eyes turned themselves to Alec's dark eyes as he spoke to the 15-year old girl.
"Here we are, Miss Katra,
he said to her, with a wary smile.
"while I am not allowed to dorm with you misses, your parents have given me a small apartment not too far from here,"
he reached over in the seat and plucked a present, then leaned back and handed it to her. Katra reached small hands out to take it from him, her eyes were emotionless, but her voice was soft as she said,
"Thank you, Alec,"
"They've given you,
Alec continued, as Katra slowly opened the small purple and silver giftbox to reveal a cell phone. Alec smiled as she took her time; Katra was one of those people who cherished small things.
"A cell phone as a present, in the phone are my number and theirs so that you may call on me anytime that you need something and I shall come and give it to you. Or pick you up on holiday.
Katra's smile was small, but it was there. Alec smiled and got out of the limo; he went straight to the trunk where her many belongings would be, not bothering to open her door. Alec knew all too well that Katra would chew him out if he so much as touched her door. He had been gathering at least five of her luggage, when he heard the door open and the small girl got. She was dressed in her school clothes, a cap adorned her head, of which he had gotten her before coming to the school, and small earrings were at her ears.
Alec smiled as she plucked up her gift, and small bag, which she threw over her shoulder, and made her way towards her dorm building. Struggling, but otherwise at ease, Alec followed her. Not long after, they made their way to dorm B1, and Katra slowly inserted her key and opened the door. Alec immediately went in and put down her items before quickly leaving to get back to the car where her other luggage belonged. He returned to see that the shades had been drawn, making her room darker than what is was, and her lamp was already in place and turned on. He smiled to her as she began taking her items out of her suit cases and putting them in their respective places.
"Well that will be all, Miss Katra,
Alec said, as he hauled the last of her belongings to her room. The quiet girl now stood in the center of the room, waiting to say her goodbyes. Alec reached over and pulled the girl into a deep hug of which Katra returned with such warmth.
"I suppose I'll be seeing you whenever you need me, Miss Katra, do take care of yourself,
he said pulling away. He stepped away and stood at the door.
"Goodbye, Alec,"
Katra said softly, before turning away to clean her new room.
You too,
Alec thought sadly as he saw her, then he closed her door and left her be.
Oh Crappity Crap::
Opening post...meh...