Sterilized Bacteria
(?)Community Member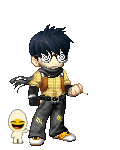 Posted: Thu, 20 Dec 2012 03:59:37 +0000
XXXX

✪

XX

•

XX

XXX

Fletcher

M

ontgomery

W

ade

XXX

XX

•

XX

✪

XXXX
X
█
█
███████
████████████
████
█
█
_______
•

location»

Heading towards the cafe •

mood»

Ready to start this shindig •

company»

Sarah, right?
╔══
I

t was the first day of school for Fletcher, and the young Lancashire native was already itchin' to get the year started with a bang. Now a bona fide senior at Topsy-Turvy Academy, Fletcher felt it was his utter responsibility to be irresponsible. The first irresponsible thing for him to do would be to completely dismiss acquiring his schedule and flat key, but seeing as he had a large, red duffle bag slung over his shoulder, finding somewhere to set it down was first on his priority list. Entering the main office, Fletcher threw down his bag at the secretary's feet and cracked his neck. The loud thud caused the lady behind the desk to jump in her chair, banging her knee on the top of her desk. Rubbing his shoulder and stretching his arm up like he was raising his hand, he shook his head at the secretary. "Well that was just clumsy, wasn't et? Ye' oughte' watch y'er knees." He placed his hands on her desk and leaned forward. Looking her in the eye, he lowered his voice a few notches. "And let's face et, y'er only gettin' older and ah'm sure those knees 've been put through enough by y'er 'usband." Standing straight once more, Fletcher put his palm face down in front of his waist and moved his hips forwards and backwards. Was Fletcher always this crude? Only on occasion.

Finishing his movement, the young Brit slapped his palms together, snapped his fingers and pointed at the secretary. "Speakin' of keys and locks, though, ah need the key to my flat and my list of classes." Perturbed and annoyed all at the same time, the secretary quickly printed out his schedule and handed him his key, put it in an envelope with his name and flat number on it, and handed it to Fletcher quickly. Picking up his red duffle bag once more and taking the envelope from her, he waved to the secretary as he began walking out. Before he left the office, though, he turned around, a sort of uneasy look on his face. "Just one question, right. Is it hard wood or carpeted?" The secretary shot him a look of confusion, causing Fletcher to raise an eyebrow mischievously. "Y'er bedroom floor. Ah'm just interested in the well-being of y'er knees." This time, the look the secretary shot was one of disgust and utter loathing, so Fletcher shrugged and turned around, finally leaving the lady in peace.

Fletcher was deep in thought as he made his way to his flat, wondering if the Academy had made renovations to the dorms in any way. As long as their was still a kitchen, Fletcher would have no issues. As he approached room A6, Wade took the envelope out of his inside jacket pocket and opened it, removing the key and putting it into the lock. With a twist of the lock and then the knob, Fletcher was finally in his room. He left the door open behind him and set his bag down on the kitchen table, taking in his new home. "Well this is just gorgeous, innit?" The kitchen would be adequate if he ever felt like baking alone or didn't want to travel to the culinary room. He opened his bag up and started removing the contents: flour, sugar, several different colored boxes of icing mix; all the things a baker might or might not need. He fiddled around with his hand mixer before putting the rest of his tools in the designated drawers. Now for his clothes; he moved his bag to his room and threw it on the bed. He took one look at the items of clothing and left the bedroom, figuring he could unpack it all later.

As he left his room, closing the door and locking it behind him, he just about bumped into somebody. Turning his head to see who it was, his eyes widened a bit, finally seeing a familiar face. "Oi, it's you! Um... You! Y'er name... Is..." He slouched down a bit and put his hands on his hips, studying the surrounding area as if it would give him the answer. His eyes narrowed and he looked back at the girl, his head cocking to the left. Out of nowhere, it hit him. He removed his right hand from his hip and snapped his finger, pointing it at the girl. He brought the finger to his bottom lip and let the knuckle rest there. "Ah'm so sorry. It's been a long time and Ah haven't exactly been keeping up with people here. Or people in general." Which was entirely true. During the break, Fletcher had flown back to Lancashire to keep tabs on his father's bakery, which his mother was managing to run very smoothly, despite having no talent in pastries or cakes whatsoever. "But ye' look good, growin' into y'erself and whatnot. How've ye' been, Sarah?" And as far as he could remember, Sarah was actually this girl's name.






══╝




»

XX

"After silence, that which comes nearest to expressing the inexpressible is-" a good cake. And eh, probably a good shag.