Madam Exorcist
(?)Community Member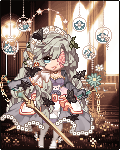 Posted: Sun, 06 Jan 2013 11:08:58 +0000
░░░░░░░░
░░░░░░░░
[

☾ℌḯεґї ℳїкαᾔ

]
░░░░░░░░
░░░░░░░░
ℓσ¢αтιση:

Going out towards the fields
|
15
|
ƒяєѕнмαη
|
5' 2"
|
110ℓв
"Ah gosh. When will I ever beat this guy!?" Chieri puffed up her cheeks as she stared down at the portable device in her hands. Pressing at the triangle, square, circle, and x buttons roughly. There she was just mumbling nonsense to herself once again. That's how she always was wandering and gaming. She was heading towards the back area. Near the field and the greenhouse. Honestly, she didn't think anyone would be out and about in this sort of weather. Not that it was bad weather. She peered up from her hood to look at the cloud sky. A slight breeze brushed through and she felt a drop fall into her eye, causing her to squeal a bit and stop in her tracks. She rubbed her eye lightly, sighing and feeling a slight tear fall. Her pale eyes moved back to the screen, noticing her character die once more from that boss she was trying to beat. She made a defeated look as she turned the console off. Pouting.

By then she was already standing near the baseball field. Not that she noticed in the slightest. Wandering and getting lost was her forte. She heard a slight 'thack' as if someone had hitten something nearby. She glanced around, then shrugged. It was probably nothing. Just then, she could hear someone shouting a bit. "Hey watch out!" She turned over to see who was calling out to her, but then everything went blank for a moment. A loud smack was heard, and it felt like someone used all their strength to chuck a rock at her side. An aching pain was sent throughout her body as she stumbled over (tripping over her steps) and fell to the semi-wet ground. "O-ow!" She squeaked, now finding her vision looking towards the sky. It hurt. Her side hurt. She turned her head over to see a baseball laying next to her. She blinked a few times, A baseball!?- oh! oww.. While trying to grab at it, she only felt something sharp in the side of her gut, making her fall back. Eh. The ground isn't too bad... She thought, but just as she was about to admit her 'defeat'. She heard some huffing and wheezing, and the next thing she knew, she was taken in by some guy.

She blanked out for a moment, as she was still trying to figure out what just happened to her while the man was obviously trying to figure out if she was okay. Was he the jerk that hit her? "God, I'm sorry. Listen, are you okay?" Refocusing her vision she peered out once more from her hood to look at him. He adorned spikey silvery hair, in a rather messy, but charming way. Along with vivid yellow green eyes. Let's just say...he was pretty cute. It made her stare back towards the ground for a second. Something about him was really familiar though. As if, she saw him somewhere...She stared for a bit, either still in shock about the hit, or just wondering about where she could of saw him. She shook her head lately, snapping out of her thoughts. Pulling off her hood, to reveal her face to the male. She merely scowled and pouted. "Listen mister. I was just smacked with a baseball by some person who obviously was putting all their force into a swing. I'm sure I'm not okay." Maybe she was overemphasizing it, but it really did hurt. Especially since she was caught off guard, it was sudden and sharp. This guy was a pretty good swinger! Heck, he should give her some tips. Might help her with Wii Sporst: Baseball. She slightly gave him a look. But once she did that, he all of a sudden backed away. A little TOO quickly. She made an offended look for a moment. Did she look that horrible that he had to back away? She tilted her head slightly when he continued to look at her, yet...his mind was obviously somewhere else. Weirdo.

"um...?" She waved her hands lightly, as if trying to see if he was alright himself. Then all of a sudden he spoke. Mentioning something about knowing her. She was a bit confused at first, but then he mentioned saving a cat and a tree. That's when a lightbulb hit. She jolted up and leaned closely towards him, pointing at him "oh!!!! I remember you." She leaned even closer "you're the guy who fell off the tree." she laughed a bit, as if that was the only thing she remembered from the whole experience. Backing off slightly, she clutched her hand to the side of her stomach laughing and laughing with pain at the same time. She was so easily amused. She wiped a painful tear, "ow...laughing hurts. Anyways, yeah! i was 'that girl' Remember my name? sounds like Cherry. Chieri Mikan~" she proceeded to do some little posing that involved a peace sign and a big smile. That was a good day, that one. She was just walking by and happened to see his attempts on getting the cat. Of course she had to come in and save the day! The guy obviously didn't know what he was doing. She probably had to mentally slap herself on that part. Anyways, it was a super coincidence to see this guy. And the fact that he remembered her after two years embarrassed her really. She always thought she didn't have a lasting effect on people. A slight blush formed as she pressed her index fingers together, pursing her lips. "You helped out though, so you saved it as well." She grinned a bit, before making a face. A rather disappointed one, "but...I know the comment about you falling off the tree because you were fat was a bit mean, but you didn't have to go and smack me with a baseball for revenge! Rude." She rubbed her faintly hurting side with a smile.

She straightened up her posture, slightly groaning. Now that she thought about, he was really tall. Taller then the last time she saw him. Which was what? Two years ago. She had to literally look up at him just to look at his face. The thing was, why did she notice now? She could of noticed it 2 years ago when he was able to help her up to get the cat. Her hands swept behind her back, touching the spot where she recalled him pushing. "I got you, now climb." Why she listened, she wasn't sure. Maybe because it was weird to have someone actually have your back. Or maybe because she was so embarrassed she didn't want to go back down yet. The short girl peered up at the towering male again, feeling the sides of her hair sweep downwards, looking up at him once again. This time, a deep frown was on her face, because honestly, she didn't like tall people. Why? because she was such shorty, right? Getting annoyed, she lightly jabbed the guy in the stomach with her pathetic excuse for a punch. IShe made a triumphet look as if she had succeeded something great. Slowly crossing her arms against her chest she continued giving him a pouty look, "Payback." she lifted a finger, leaning over with a teasing smile. "Also, I'll be taking some candy as an apology."

OOC:
2nd post~! Hope this isn't as crappy as the first one.
haha. feel free to plot with Chieri as well if you want guys~ ;u;
She loves people. lol.
✤
✤
✤
✤
✤
✤