Cyanide-And-Sugar
(?)Community Member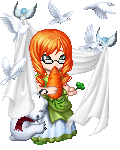 Posted: Wed, 28 Mar 2012 21:15:26 +0000
----------------------------------------------------------------------------
Dr. Carrigan Blakely
Quirky Science Teacher
----------------------------------------------------------------------------


Morning routines were always the most boring part of the morning - the whole waking up, eating breakfast (a slice of toast with jam and some orange juice), feeding the dog, going in the shower and making sure he was clean before brushing his hair. Ugh! So repetitive! The man thought as he left it to dry naturally, well aware that no matter what he did, his hair would be as unruly as ever, yet he didn't mind, he could work with unruly hair just as he could work with unruly students - tending to just go with it and hope for the best. After all, sometimes people can get through to them, and sometimes they can't. The teacher carried on getting dressed and performing the rest of his morning routine, which ended with a dog walk, and a long drive to work, which was arguably the worst part of being a teacher (then again, students being... weird was scary, and marking wasn't a huge bag of fun either).

It was typical Carrigan, always arriving much earlier than necessary in order to sort out what he'd be going through in lessons. Well, at least, what he intended to do during lessons - it wasn't uncommon for Carrigan to decide that actually, he was bored of teaching that topic, and therefore he'd move on to a different one, sometimes even in the middle of a sentence. Admittedly, while he was a pretty good teacher in the sense that he could make any student that walked through that door, good at science, his pace was rather quick, and jumping between topics did cause students a bit of confusion.

His plan for his first lesson was for him to do seven experiments at the front of the class, and see what the students (particularly the ones he'd never taught before) knew about these experiments, to see if they could identify what species was in each test tube, and see if they could form equations. It was rather easy - they should already know most of these, but it gave him an idea of where about their knowledge was at. After all, the less they knew, the more he got to teach, and therefore, the more fun he was able to have.

The teacher was simply preparing the test tubes with each of the compounds in, labelling the test tubes A-G, and putting away the bottles with the chemical names written on them, as it would be no help if they simply read the labels.

Looking around the familiar classroom, Carrigan was rather irritated that things came to this, as it was difficult to teach classes when they ranged so widely on ability, and previous knowledge. It was much easier to teach the girls (with a few exceptions) as he knew what they'd already learned, having already gone through this process and filling in the gaps from there.

His classroom was particularly colourful, and was constantly being rearranged as he was never happy with it. Some students had dared to call his classroom a mess, while Carrigan called it controlled chaos - animal cages and tanks lined up along the workbench by the window, walls littered with posters made by students, accompanied by various quotes, most of which having very little to do with science (his personal favourite up there being 'the only constant in life is change').

Setting down the test tubes on a rack, the teacher then proceeded to write down 'LEO the lion says GER' on the whiteboard and feeding the various animals, all while quietly singing the element song to himself, before concluding that his preparations were complete, and heading to the staff room, where it was rather inevitable that he wouldn't be the most popular teacher in there, and end up rubbing somebody (or most likely everybody) up the wrong way sooner or later - in fact he wasn't much liked by most of the other teachers at all, but he was fine with that. Well, sort of. Sometimes, being lonely was the price to pay for being different. It was just that Carrigan believed that it was a price worth paying.