multicolor hair freak
(?)Community Member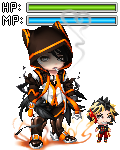 Posted: Thu, 04 Oct 2012 04:49:27 +0000
𝕭𝖑𝖆𝖐𝖊 𝕬𝖑𝖊𝖝𝖆𝖓𝖉𝖊𝖗 𝕵𝖆𝖈𝖐𝖘𝖔𝖓
☸
J A C K

XX

S K E L L I N G T O N
☸
========================
☠
========================
Blake stayed in his car as he awaited the young man's return. Having a piano piece called 'This is Halloween' stuck in his head that he had learned from his grandmother in his head he began to hum it as he'd lightly tap his fingers onto the steering wheel. He also let out a few 'da da da's every now and then along to the music in his head. He felt totally free in his car. After humming a bit he began to search in his armrest for a CD. Finding it he put it into his radio. Desire teasing him to play the song aloud.  Now playing the hardcore version of the song, Blake happily sang along. Feeling a sense of happiness from the festive hardcore song, something still didn't seem all the way, but he was trying to enjoy himself as much as he could. Tapping his hands on the wheel, singing along, even throwing in a few spooky voices when each character sang, and all while the music was on full blast. He had forgotten that he was at the Darling's driveway. He was in his own little world. His own, dark, little world.

Blake was pulled back into reality when Atticus opened the car door. Jumping the older male went to turn down the music. He just smiled and shrugged at the boy's words though. "Feed the animals? Do you have a zoo at your house?" Blake laughed towards the boy before he pulled out of the driveway. He was sure that a zoo wasn't actually living deep within Atticus' house, but seriously how many animals did the boy have if The Pumkin King go sucked into his own world in his car. It was a sad reality, but silly at the same time.



"So...this dance thingy do you really think I should go I mean I've never danced before and I don't think Freddie would like me I mean he's so handsome and I'm......... not."

Blake chuckled softly at the word 'thingy'. It was just a funny word that Blake, himself, hadn't heard since he was in middle school. If you could actually call it a word. "Yeah, dude. You should! Freddie's gonna love you. I just know it and if things start to go a tad south than just chill with me and my friends. I'll be there and I'll even put in a good word for you if you wanted." He told the young male as he gave him a quick look and wink before putting his eyes back on the road. It was adorable how nervous the boy was. Though Atticus really had nothing to be nervous about. As long as he was nice than surely Freddie would like the kid. The only problem would be if the younger boy played the shy card since Freddie would surely do that. It just wouldn't go very well if they were both quiet the whole time. "don't be so down on yourself dude. He's a single bachelor just begging to be graced with your adorable face, so don't give me that 'I'm not good looking' s**t cause you are, okay? Just believe in yourself. He'll be falling for you at 'hello'." Blake said bluntly, though he wasn't surprised about the boy's insecurity. He seemed like the type since he was so paranoid about asking Blake things. It was funny really, but Blake didn't mind it. He was pretty much use to it now.

As Blake continued to drive Atticus asked him a question that he couldn't help but chuckle softly. What did he want to do after high school. Sadly, it was also a mystery to Blake as well. "Not work at a stupid costume shop, that's for sure!" he laughed. Blake wanted to enjoy life after high school, but he had no idea what he wanted to do. His parents wanted him to do something totally weird. Anything horrifyingly weird and spooky, but Blake wasn't so sure if that was what he wanted. "Ya know what?" he began. "I don't even know." He said nonchalantly as his eyes stayed on the road. He began to think now. Though, nobody ever asked him about what he wanted, he had thought about it, but he didn't see a reason to put too much thought into it. But now someone actually cared enough to ask him, so what was it Blake wanted to do? "Ya know...I've thought about it, but never really thought about it." He stayed quiet for a bit as he attempted to come up with an answer. First, mentally asking himself about what he liked to do and  than coming up with all the possible job choices for that passion. "I think...I want to entertain. I don't know how, but I want to be in front of people and entertain. Sing mostly, but still, entertain all the same. Maybe some kind of theatre or band thing. I still wanna be creative and express myself, but...I doubt my parents are going to like that..." he said letting his voice trail off. "Unless you see me in a court room or something." he laughed quickly flashing Atticus a friendly smile. "Ha. Why? What are your plans in four years?" 

After driving for about fifteen minutes, Blake came up to the shop and saw Lilith at the front doors. A quick smile appeared on his face. "We're here." he stated a but happily. Blake liked his job for the most part, but was never excited to be there like today. He just couldn't help but smiling. Parking, Blake smiled up at Lilith before turning back to Atticus. "Hey, be warned that people could be a little weird in there, okay, but they won't bother you. If anything, they'll bug me." and with that Blake stepped out of his car. Walking up to the front doors he wore the biggest smile. "Lili~" he sang as he got closer to her. His arms extended outward ready for that hug he had promised much earlier that day. "You ready to enter..HELL! Dun-Dun-Dun!" he asked her with a darkness behind his voice for affect. Smiling down to her he looked over to the other male than back to Lilith. "Atticus is gonna be hangin with us, okay? I hope you don't mind~" and with that he gave them both a quick smile before walking into his workplace. It was a hit slow at the moment, but the place was a bit of a mess in an area. Blake didn't care. It wasn't his problem for another 45 minutes.

==========================================================
{OOC: sorry for the wait and sorry it's not color coded
sad
~}