Mrs Yachi-san
(?)Community Member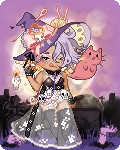 Posted: Mon, 04 Mar 2013 16:43:55 +0000
╔════════════════════════╗
Location

:
Dorm Room 3
Company:

:
Nier, Axel & Journey
Love Interest:

:
Thats none of your damn business!
Flynn
Wearing

-

Tattoo
╚════════════════════════╝
Laying there with her back to the room Sheridan really didn't bother looking over her should as she heard Flynn say that he cared, and then sometime later say that she basically didn't have to leave. With that she heard him snap move to Axel and Journey and then left the room. After having sat up she looked at Axel as he asked what his brother had done. She looked to him with anger and sadness sparking in her eyes.




"What hasn't he done?"

Hearing Axel tell her to meet him in the bathroom she just sat there and hugged her lags to her chest as she looked at him before resting her head on her knees. She then felt Axel climb on her bed, past Nier and then sat down next to her on the opposite side of Nier. She glanced over to him as she was asked who her friend was.

"Nier, his names Nier."

She really didn't know what to say. She was at a loss and that bothered her.

After hearing Flynn leave the room she saw Kiki get up and go to her and give her a hug before speaking to her.

"I didn't tell you because I don't want people to know. Thats something you don't want anyone to know. Up until now the only person that knew the full details learned on accident. But because they actually care they have said nothing and has never treated me any different."

Sighing as Kiki took her head in her hands and kissed her forehead Sheridan nodded slightly.

"Fine I'll tell you but don't expect me to let you pay for anything."

Looking up to Kiki as she felt her leave the bed she nodded her head slightly.

"I love you to Kiki, and I will try talking to you more. But it won't happen right away. I have kept all of this to myself for so many years it won't be easy."

With that she watched as Kiki left the room.

With that Sheridan took a moment to collect her thoughts before she looked to the two males that were still in the room. She took a breath before she turned to Nier and gave him a quick hug before scooting off her bed. Need to take a minute to myself. She thought to herself before speaking up.

"I'm going to go to the bathroom for a moment and then I'll let you in to talk Axel. I just need a moment to myself. Nier if you are still ok with me bunking with you for the night just get some of my blankets together and when I'm done talking to Axel I'll get a few other things together."

With that she stepped into the bathroom and took a few deep breaths before a few minutes later stepping to the door and waving Axel in. Waiting for him to step in she stood there in the doorway and once Axel had entered she moved away from the door leaving it open. It was pointless to close it and keep what they had to talk about private. It wasn't like Nier could find out much more then he already knew other then the details, and the fact that she had a kid, which she didn't really mention that often.

Looking to Axel as he stood in the bathroom she threw herself into his arms and just hugged him as she started to cry. She really hated crying but she hated not being able to talk to Flynn.

"Why does your brother have to jump to conclusions Axel? Why does he have to think the worst of me?"
You come on with a come on, you don't fight fair
But that's okay, see if I care
Knock me down, it's all in vain
I'll get right back up on my feet again.
They cry in the dark, so you can't see their tears
They hide in the light, so you can't see their fears
Forgive and forget, all the while
Love and pain become one and the same
In the eyes of a wounded child.
To:
From:
Message:

To:
From:
Message:

""