Cyanide-And-Sugar
(?)Community Member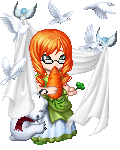 Posted: Tue, 29 Jan 2013 00:31:24 +0000
Kali Aleydis Beckett
_______________
☆
☠
_______________
"It's not about fitting in - it's about sticking out."
And you,
you're addicted to the drug of lust.
De-toxing the cold sweat of shame.
And I love your pain.


It had almost been a shame to have gotten off of him, in the end, being able to hear and feel the effects that she was having on him - the choking, the squirming, the twitching and moaning? Not to mention being able to see more... obvious signs of want. Kali couldn't help but smirk to herself, if anyone saw any of this, both herself and Jericho would most likely be accused of being into some twisted things, and... they'd probably be right. The funniest thing was that this wasn't even the tip of the iceberg yet - hell, it was like they were only just at base camp. Yet, she didn't really care what most people thought (although found herself frequently irritated that she cared about what he thought). It was like being on a high for her, feeling so turned on right now, and having total control. It probably helped that there'd been no a*****e comments, just muffled complaints.

Oh yeah, she'd sure loved the position of power she was in, and the way that he'd been so concentrated on nothing but her - not like there'd been something else interfering or anything, but it was still good. After all, if he'd been hugely pissed off, he probably would have went to great lengths not to watch her as she'd been stripping for him. But hey, he was a perv and she had no shame, so their dynamic usually worked for the most part. She was giving him little, or no choice, taking it upon herself to take such a responsibility as Jericho just seemed to make terrible choices - checking out that whore, for example. See? He'd be lost without Kali.

To be honest, she was surprised that he'd kept the socks in his mouth for as long as he had, half-expecting him to have spit them out just as she'd put them in. It wasn't exactly something people forgot about. Maybe she'd simply taken his breath away, a small smile forming on her face as that thought popped into her head. She wasn't really sure whether to be happy or not as he started speaking, on the one hand, that sexy accent of his, on the other, he was an a*****e and she wasn't sure why the hell she liked him. Rolling her eyes, it was typical Jer. He was acting so stupidly, and then had that rediculous smirk on his face, sort of like he'd hit some sort of achievement. Well... that smirk was sure to leave his face as quickly as it had arrived. "Well, you took your time figuring that one out, didn't you?" she'd sneered, pointing out the idiocy. As for his comment... she considered replying to it, maybe mention how red was her favourite colour, (blow a few minds by mentioning that she wasn't too fussed on purple) but that wasn't worth it. Not when she could probably make him squirm again.

He didn't seem to appreciate that as much as he tried, he didn't have any control at all. She'd have to correct that, and quickly, mockingly tutting as she stood up on the bed again. "It's a shame you think that." she'd said, looking as if she were deep in thought. Yeah, she was just thinking of which way might piss him off the most. "Well, how about you choose what underwear I should wear? Who knows, I might just get a kick out of it when someone else takes it off later." Kali had shrugged, placing her foot by his crotch area again, not applying any pressure or anything, just leaving it as a taunting reminder. "Mind, it'd also be a shame if I broke it - maybe see what breaks first. You, or little Jer? Hmm..." she'd taunted, the tone being a dead giveaway that this could turn out really, really badly if he dared to challenge her on this, because otherwise she wouldn't do it. It seemed she'd well and truly crossed the line between naughty and evil on this one, even the thought of what she was threatening to do leaving her fearing for her non-existant p***s.

"You aren't doing very well in this game, are you, Jer?" Kali had pointed out, just voicing a fleeting thought in her mind, the thought aking her smirk. What wasn't making her smirk was that it was January and she was wearing almost nothing. Not brilliant. It was bloody cold, starting to rub at the goosebumps forming on her arms. And it wasn't like he'd make it easy for her to just pull the blankets from under him. Fine, she'd find another way. Wasn't body heat supposed to be good? "So far, I'm winning. 3-0 to me." she'd declared, sitting on the male once more... but not like before. She was pinning his arms down again, which admittedly wasn't exactly necessary, positioning herself in a way that she could see his facial expressions. "One for tying you up, another for sitting on you, and another for making you kiss my a**. OH! Maybe another when I eventually finish this story, almost forgotten about it." She'd said, leaning to retrieve the socks, teasing by slowly using two fingers to push them back into his mouth, about to clamp her hand over his mouth when she'd done messing around. Well, she needed him to shut up for story time.


_____________________________
☆
Where?
Girls Dorm #4
Who with?
Jer
Outfit?
[X]
OOC:
-----

I gave you these roses now, but I left in the thorns,
I'd rather hurt someone than hurt myself.
I'll dispose of you, like a lighter out of fuel,
I'll lose you somewhere on a dusty shelf.