Mrs Yachi-san
(?)Community Member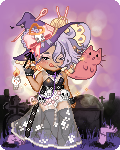 Posted: Sat, 12 Jan 2013 13:01:49 +0000
Love Interest:
•
Thats none of your damn business!
Flynn
`•.¸¸.••´´¯``•• .¸¸.•´`•.¸¸.••´´¯``•• .¸¸.•´`•.¸¸.••´´¯``•• .¸¸.•´`•.¸¸.••´´¯``•• .¸¸.•´`•.¸¸.••´´¯``•• .¸¸.•´
You come on with a come on, you don't fight fair
But that's okay, see if I care
Knock me down, it's all in vain
I'll get right back up on my feet again.
It was the first day back from Christmas break and Sheridan was tired and sick. So after walking back to school from the gym she went to her room and laid down and just curled up under the blankets, thankful that Kiki wasn't back yet. She just hoped that no one found out about where she had really been during the break. When she had learned that everyone was going away from Christmas break she had been some what happy, for she had thought that she would have been able to get some time to herself. Well that thought died quite quickly when the principle informed everyone that no student could stay on school grounds or in the dorms during the break. her parent's wouldn't let her come home, and she honestly hadn't wanted to go any where near her father, and she didn't have any friends, besides Flynn and they hadn't been talking and still weren't. So she had ended up packing her bags, making it seem like she was going to be staying some where anyways. But once everyone was gone she had ended up heading to the gym and just staying there for a little, working on her training and speaking to the trainer. She had then had to force herself to kindly turn down her trainer's offer to let her stay at the gym over night until school opened. She hated when people pitied her, but she did ask if she could at least shower there and still train there during the break and of course her trainer said she could. Well that night she slept not far from the gym with her bags as her bed and a worn out blanket as her only means of keeping warm other then her clothing and jacket. And for the last few weeks during the break that had been her routine, work out at the gym, shower and then sleep on the streets not far from the gym.

Trembling under the covers Sheridan was just glad that she was back at the school, who would have thought she would be glad to be at school. Coughing Sheridan closed her eyes and just tried to sleep, she hated being sick, but she wasn't about to go see a Dr. She hated those more then being sick. She was curled up on her bed with her Nightmare Before Christmas pajamas, hoodie and socks on. She was also covered with not only the blankets that came with the dorm room bed but a Nightmare Before Christmas fleece blanket, though it was sadly growing thin since she had had it for some time.
I think the next time I get some cash I need to get a better and thicket blanket.
She thought to herself as she looked about her room. Looking at the time on her phone she opened it and quickly dialed the front office and let them know that she wouldn't be making it to class because she had ended up coming down with a nasty cold over the break.
"I just hope no one bugs me. I don't think I'm in any mood to deal with any drama or bullshit."
She took a minute to blow her nose before she leaned back against her pillows and closed her eyes again.
I think I just need to rest, thats what will help.
Breathing through her mouth Sheridan rolled onto her side and just curled up into a ball, her teeth chattering and her body shivering. She knew that this coldness she was feeling was going to take some time to go away, she hadn't stopped shaking since she had spent the first night out on the street. She hated the cold, and knew for a fact that she would be getting better Winter clothes once she had the money to do so.
They cry in the dark, so you can't see their tears
They hide in the light, so you can't see their fears
Forgive and forget, all the while
Love and pain become one and the same
In the eyes of a wounded child.
`•.¸¸.••´´¯``•• .¸¸.•´`•.¸¸.••´´¯``•• .¸¸.•´`•.¸¸.••´´¯``•• .¸¸.•´`•.¸¸.••´´¯``•• .¸¸.•´`•.¸¸.••´´¯``•• .¸¸.•´
╔══════════════╗
Occ:
First official post of the second
semester! It is just after Winter break.
So its around the first week of January.
╚══════════════╝