angelswolf121
(?)Community Member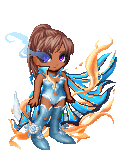 Posted: Sun, 30 Sep 2012 08:29:18 +0000
§ Karen Hart §
Karen looked at Abetha, almost in shock, but not quite. She felt something, a tear, form, but not fall. No, she wouldn't allow it to fall. She took a deep breath in, held it for a five count, then let it slowly back out, allowing everything she was feeling temporarily out with her breath.
"You're right, Abetha. I know you are. It doesn't make it easier, and I know he'd want me to go on; I'd like to think he wouldn't want me to wallow in misery. It's why I've gotten up every morning, put one foot in front of the other, and forced myself to move, to at least try to live."
She held the athletics teacher's gaze a moment.
"Thanks for that. I needed to hear that, for someone who knew what happened to tell me that what I'm feeling is valid. I've... I've never dealt with this before; loss, like this. I've never had anything to mourn. I-"
Her sentence was cut off buy the sudden streaming of students as they exited the school building.
"Huh. I guess the speech is over already. That's odd. Though, I guess it really isn't. Ms. Hamada... she's probably aware by now of his presence. I imagine she's got that to deal with, and won't have time for a lengthy speech."
She smiled at the woman in front of her.
"Thanks again, Ms. Lake... Miss Lake? Mrs. Lake? ... It feels odd addressing you formally like that. I guess I'll see you in your class, Abetha."
She gave her old, half-hearted smile as she got up and dusted off her pants.
She didn't have her bag or anything with her, and as such, she had to go to her dorm. When she got there, she realized that in all her rush earlier, she'd failed to lock it. Good thing she didn't have anything worth stealing.
'No. That's not true anymore. I actually bought myself a laptop while school was out.'
She shook her head and grabbed a bag that would serve as her backpack. She looked down at herself and laughed, loudly, realizing that not only had she not locked her dorm room door behind her, she'd failed to take off the Kevlar body armor she wore while riding her bike. It had cost her damn near an arm and a leg for it, but it was worth it. It had saved her neck in a bike accident three months ago.
She stripped it off, along with the shirt she'd been wearing under it; it was dirty and smelled of sweat, and though Karen wasn't a girly girl, she didn't particularly feel like stinking. She dug through her pile of clothes, finding a white tee with a distressed Batman logo on it. She nodded; if there was any a day she needed her favorite super hero, it was today. She sighed after she'd slipped it on; it was still baggy on her. Not as bad as it had been, but she still didn't like where it hung loose. She still needed to gain a few more pounds in order to be at her 'healthy' weight.
She grabbed her bag, which contained folders, binders and pencils, and grabbed her school schedule. She locked her dorm behind her this time, and took off down the hall. She looked at her schedule, not paying any real attention to where she was going; she made sure, however that she didn't run into anyone again. She paused at the end of a hallway and looked up. There was Eagle.