YouDontKnowThisGuy
(?)Community Member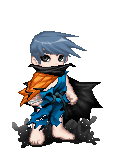 Posted: Wed, 26 Sep 2012 16:49:00 +0000

MR. GOLASH
Things had finally changed. Another year was starting and this time it felt like something new. If only Golash had known how things would change then he'd never have wished it. Instead of ending the year in the arms of his love he found himself trapped in the most nightmarish of places while those damned students destroyed any hope he had of being happy.
He opened his eyes to the sun in his face as he sat up in the courtyard of the school. His return hadn't been revealed to anyone just yet, but he did find out that Allison Hamada had taken his role as Principal for this year. She deserved it, even if she took part in his entrapment and the destruction of her own sister. That had to be so painful; killing a sister that you thought was dead already and only a few hours after realizing that she was alive.
His face fell into his palm as flashes of Sheryl's barely remembered smile brought tears to his eyes. She had been everything to him, and his entire life had been spent trying to bring her back. He'd prepared back-up plans and was so careful only to be outdone by the selfish act of the student whose memorial sat not ten feet away.
He wanted to destroy every last person who had something to do with his downfall. He wanted to see them bleed. He wanted to have them watch as he ensured their destruction. Every ounce of his being wanted them to suffer a thousand times over for what they did to him, but there was no point. His anger wouldn't return Sheryl back to life. She was gone and he had nothing to live for.
That was something that he'd tried to fix many times, but he still had his abilities which turned his greatest benefit into torture. Life was his prison. On top of that he knew that so many people hated him for what he'd done. He was the villain of the story and so many lives had been lost because of his dedication; so many students who had a lot to live for were trampled in his mad vision. All he had left was revenge and sadness. He was broken.
Karen. Karen was the one that gave the final push. All he needed was to pull himself back through the rift, but she destroyed the bodies of the priests which was used to keep the rift open. If she hadn't done that then he'd been able to save Sheryl and if they hadn't destroyed Sheryl's pet monster then they'd probably all have been dead.
He hated Slythor for that. A creature of rage and hatred destroyed by music no less. An unstoppable beast tamed by Sly's melodies. Without the hatred and anger it faded away, finally went back to being a story told by parents to keep their children in line. Things were going so well then everything fell apart.
His fist hit the ground. Now he was back, and his memory from within the rift was sketchy at best. Flashes of creatures that made his skin crawl and garbled words that he presumed was their way of communicating. He could only make out a few words before they forced the rift open again and threw him out.
"The sickness is coming. Warn them."
Now he had to decide whether he felt like saving this filthy Sheryl-less world. He had to decide whether it was worth rescuing. Right now all he wanted to do was hide away and wait for his years to slowly dwindle. What did he care if the entire world was destroyed; it had taken everything from him. Everything.
He pushed himself to his feet. He wasn't just going to sit around and do nothing while he waited. He had people to see and a pointless revenge to plan. He wasn't going to be the principal, but there was definitely some classes that needed a teacher. He'd applied under a fake name, but when Allison saw him again her face would be priceless.
But he wouldn't see her surprise. He wouldn't see her anger, her hatred, or the fear that would come with it. All he'd see was the resemblance. She was the only thing left that could remind him of Sheryl and he'd been waiting a long time for the chance to remember that face.
((OOC: Welcome newcomers and old! This is hopefully going to be a very interesting year.
smile
))