P o i z 3 n
(?)Community Member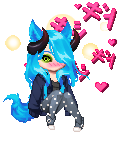 Posted: Tue, 03 Apr 2012 21:31:33 +0000
►Hey look I'm . . .

At the Dance

/ /

►My feelings . . .

Spooked
/ /
►I have company . . .
No one

As much as Evelyn would like to say that she actually paid attention in class today, she would be lying. Her mind was completely somewhere else, which was a tad unlike her, for she was quite serious about her studies.

'What has you so distracted Evelyn?'

Mightyena tried to pry, but Evelyn didn't give him an answer. 'Nothing.'Is all she said, but Mightyena could just go snooping around if he really wanted to find what it was, Evelyn just didn't feel like explaining.
Excitement boiled deep within her for this dance, an actual dance! With people! Well...sort of people, but a social gathering! Where she could mingle! Evelyn never got a chance to ever attend a school dance before, so the excitement that swelled within her almost felt too much to contain.

As soon as the announcement for the end of her last class was given, Evelyn practically sped out the door. Giving a wave goodbye followed by a "See ya later!" to her friends Raine and Deon the mightyena gijinka raced to her room. Where she had B-line to the small closet space she called hers and picked out a cute little dress. Where as some may see gray in color, Evelyn saw it more as a beautiful silver when hit with the correct lighting. 'I had a feeling that maybe this school might have a dance someday, so I'm glad I was able to buy this with the little money I had.'Evelyn smiled at the clothing as she went into the bathroom to change.
From there she fixed her make-up from the days events, brushed out her long black hair and pinned it up in a loose ponytail. Once she felt satisfied with her looks she exited the bathroom, putting on the making silver flats she had packed away and then heading out the door to make her way tot he dance. With all the prepping she had done she managed to kill enough time to make it as the doors opened.

'Aren't you nervous?'

Mightyena asked this intriguing question that made Evelyn raise an ebony eyebrow. 'Nervous? Why would I be nervous?'

'Well aren't you on the ballots for Student Council or something?'

Mightyena yawned, he sure did seem tired a lot, but the resting qualities of her soul partner did not concern her at the moment as Evelyn began to feel a cold chill run down her feet.

She had completely forgotten about that, her name was spoken over the intercom earlier, but with her mind on the dance, the vote for student council totally left her mind, until now. 'Crap, why'd you have to remind me!?'She asked as she stood at the doorway to enter the dance, feeling herself frozen.

'Well what if you won? You don't want to go up there and look like an idiot do you?'

'If I...win?'Thoughts of her actually being chosen began to fill her mind, what if she did win? What would she say? What would she do? Mightyena was right, she would look like and idiot! Evelyn's ears twitched slightly from the booming sound, breaking her of her frozen thoughts, 'I can do this...I can do this, plus there's really no chance of me winning. No one really knows me expect for Deon and Raine...'Then it hit her, this was a dance, where were her friends at!?
Suddenly broken out of frozen stasis, Evelyn moved inside the dance, looking around frantically to see if she could spot any familiar faces, until she began to hear a slight growling in her head. 'Mightyena? What are you doing?'

'Someone's watching you, someone dark, don't you feel the sudden chill up your spine? And your tail, it's starting to curl between your legs...'

Mightyena spoke in a very serious tone, which began to worry the mightyena gijinka, 'Now that you mention it...'Evelyn spoke softly inside her head as she could feel a coolness creep up her spine, making the hair on the back of her neck stand up. When she focused on what Mightyena was saying she could feel the presence of evil, no, just hatred, but something else felt familiar, what was it? The hatred was getting more and more intense and Mightyena was yelling at Evelyn in her head to leave, now, and when she finally felt that she should go a sharp sound of glass shattering diverted her attention for a split second, it was just a punch bowl, but after that the hatred began to fade. Strange...
//The voice in my head. . .

>OneObservantCreep :: Sorry for such a long wait!!!
x