SpectralEternity
(?)Community Member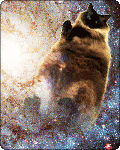 Posted: Mon, 25 Jun 2012 08:06:27 +0000
.... An infinitesimal, fathomless entity, filled with mystery and endless possibilities for all who reside within its boundless reach. Creatures from other worlds have traveled from planet to planet to fulfill their own intentions, whether they mean well or ill, and many, whether we know it or not, live here on Earth alongside its native residents. It seems that humans, who naturally fear the unknown, are not yet ready to face the truth that they are not alone in this universe. So, in order to fit into society and live peacefully with humans, these creatures keep themselves hidden. Others however don't want to live in harmony, they wish to enslave human kind, or wipe out the race entirely, these beings are why magical creatures are called monsters. But, as with everything else within the universe, there are reasons as to why such relationships between humans and magical, otherworldly creatures exist to this day. There is a legend, a happening that existed before ancient times; There was another civilization, one that was based on magic and many creatures that could harness the different powers magic possessed, but no one knows their true name. One man, called Xenon, was one of the more powerful magic users, joined by four others to form a council of elders called the Ebon Council. He ruled and guided this world of magical creatures, keeping peace, harmony, and equality together with the council. However, his brother, Lo'que, another council member, saw more power in the magic they had. He found that using magic, they could create more powerful beings under their control, and use them to take over other worlds. He called them Daemons, horrible monstrosities with black wings and gruesome faces, and kept his idea a secret, working on creating the perfect Daemon army to present to the council, that way if they refused, he would take over the council, and make an example out of them for all who defied him. Xenon heard of Lo'que's plans and was dismayed at his brother's ignorance. He was delving into dark magic, forbidden because it was powerful but dangerous and corrupt. Lo'que was blinded by power, and had to be stopped. The council stormed Lo'que's castle a little too late, the army was ready, large enough to spread out and conquer several worlds in only a day's time, and perfected as planned. A great war ensued for years and years to come, and in the end Xenon knew he could not win. He called upon an ancient magic to seal away the daemon army, and his brother. With the entire Earth in ruin, and most of its inhabitants massacred, the council had a new job, to keep strengthening the seal, kill any creatures that emerged, and create a new world, free of magic so that this disaster never happened again. The new beings would be called mortals, they had short life spans, and were very frail and weak, because they were new to this land, and needed to grow stronger, and learn to adapt without magic, therefore the council could not help them. It pained them to see their creations suffer, but it had to be done. Overtime the mortals did grow and adapt, and the council was forgotten.
This is where our story begins. The Council's duty has been passed down from generation to generation, the one thing that was not expected however, was that some of the magical creatures of ancient times had also survived and grown by creating their own worlds or surviving on the sundered Earth in secret. The truth is, they are no longer endangered species, and they thrive once more. Some stay in their refuge of their own worlds, still others travel to Earth to help the council protect the world from the Daemon Seal. This is how Swiftwood Academy came to be.
Welcome to Swiftwood Academy!
Swiftwood's Purpose;



To teach and train young magical creatures of all kinds to control or find their power; Swiftwood Academy is open to Wizards, Trolls, Pixies, Witches, and any other magical creature both known and unknown to man. As long as students follow the rules and are willing to learn, Swiftwood will continue to teach and train the body and mind.

To have a battle ready team at a moments notice; With the seal slowly losing it's strength, more and more Daemons are escaping into the world, and as a member of Swiftwood academy it is your job to hunt down and kill them before they cause harm or are discovered by mortals. D.E.M.I.S. (Daemon EliMInation Squads) are groups of randomly selected students who are assigned to seek out and destroy a Daemon outbreak. Different D.E.M.I.S. are put together every day and posted in the main hall of Swiftwood Academy, that way if a Daemon breakout is reported, the school can announce it, along with the chosen D.E.M.I.S. for the day. The D.E.M.I.S. are excused from any classes they miss and are given alternate assignments if needed as they go out with a member of the council to hunt down the rogue Daemons.

To house magical beings and act as a safehaven; Swiftwood Academy is designed in a way, to keep magical beings away from mortals, and act as unknown protectors. The school staff members are actually the current generation of the Ebon council, which has grown in number since the original five, they preside over the school, ensuring its safety for the students and the world itself.