The L0nely Prince
(?)Community Member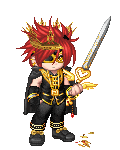 Dapper Hunter
650 Points
100
Posted: Sun, 11 Nov 2012 16:57:33 +0000
G
i
r
l
s
a
r
e
l
i
k
e
b
u
b
b
l
e
g
u
m
.
.
.
>I'm at... The Cafe
>With... Cash, Rowena, Roi, Yuri
>Doing... Back to eating

The moment Amaranth ran out of the room, Cam released Cash from his hold.

"Thanks," he said to her. "And sorry about that." He wordlessly munched on another helping of fries. He suddenly felt guilty and he hated it. He finally had a chance to get his revenge, and he felt guilty about it? Was this school already getting to him?



... Was that necessary?



No. To that extent, it probably wasn't. But Cam wasn't about to admit that to a guy he just met.



Was this what you wanted? Can you explain to me why you did any of what you just did?



Cam took a sip of water. He wanted to get back at the girl who pretty much ruined his life, that's what. As much as he wanted to snap at the other boy for questioning him, that whole scene was a little hard to ignore. As easy as it would be for him to completely ignore the questions and then get on his way, he felt obligated to give the poor witnesses at least some kind of explanation.

"She..." He paused, trying to think of the right words (for once). 'Ruined my life' sounded too melodramatic, but he didn't want to spill a whole sob story. "She's the reason I was forced to transfer here and why my girlfriend broke up with me."

Cam slumped awkwardly in his seat, unsure of whether or not to elaborate. He didn't get why she hated him. Back when she worked at the same restaurant as him, they used to have some pretty fun conversations. Now that he thought about it, they used to get along just fine until he met Abby. Everything went downhill from there. He picked his brain in an effort to figure out why that was, but couldn't find any logical reason. Not that he was any kind of master of deductive reasoning.

S

w

e

e

t

a

t

f

i

r

s

t

,

t

h

e

n

d

u

l

l

a

t

t

h

e

e

n

d

.



((OOC: Gahh it's so weird playing such a jerk... Sorry guys! *feels guilty even though this isn't real* xD))