Cena_Girl_2007
(?)Community Member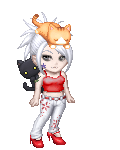 Posted: Mon, 05 Nov 2012 04:49:16 +0000
Dorian
-Malevolence-
~~Aphelion Shradia~~
I have walked the rings of Hell..

I have witnessed the burning skies and river of pain within Acheron, the screams of the souls, beckoning for a way out, yet there is none.

I have seen the spears sharpened and pikes lined up, awaiting victims in Gehenna, where chains bind and dig into the flesh of the guilty, rending them asunder and splitting their bones.

I have traveled through Dis, the city of sorrows, and seen the fallen angels that glare upon the lost, the desolate and wicked; those who tempt and prey upon the weak.

I have with my arms and legs, climbed the mountains of Erebus, where darkness stretches beyond, and those who get lost within it, are condemned form the light, evermore, helpless and abandoned.

I have bore sight upon Abaddon, the realm of the pit, where those whose sins cannot be redeemed, are cast into the mouth of a bottomless chasm, screaming as they lose hold of everything they once held dear.

I have seen things, not of this world; I have viewed the wrath that awaits the guilty, beyond salvation, beyond benediction. Yes.. I have walked the rings of Hell.. For I was born there.. It is my home..
Moving around behind her, he examined her wings, reaching his hand out to touch them, from around her backside. His fingers ran along Jasper's wings, feeling how different they were from his, hers were small shapely, and matched her form.. His were large, dark, leathery, monstrous.. She was an angel was she? She was his enemy, yet, she had been completely compliant with him up to this point. His fingers, tightening upon her wings, as he felt them, he wanted to just tear them right off..
Though he didn't.. he instead, gently released his grip from her wings, his fingers running along them once more, as though he were running his hands through long hair.. The feathers were soft, he had never seen angel feathered wings before. "I want one..." he muttered, before plucking a single feather from Jasper's wings, not even a big one, just a tiny thing near the bottom.. Something that would be easy to carry. Holding it in his hand, he stepped back from Jasper..
He stared at the feather for a long time "You know.. In enochian lore.. All the fiends, the original lords of sin.. The first ones that ushered in the age of Hell upon the underworld, and damnation.. All of them were said to once have been angels.. Angels who stood behind Lucifer, during the fall from grace.. They had their feathers torn from their wings, so they could never fly again, and were cast into the pit, to share eternal damnation with their fallen prince, the son of heaven, Lucifer. The flames of Hell made their wings hard, and black, burning them and cauterizing them into tone. It was from them, all other subsequent demonic and unholy progeny were frontfourth born from. So on and so fourth until the monsters that exist today.. Do you believe me? Do you trust me, when I tell you this?" he inquired to Jasper, as he held up the feather.
((Pardon my absence, I've been recovering from the super-storm sandy, as well as having medical issues of my own, its been a pretty difficult ordeal for me))
Jasper took a deep breath feeling him touch her wings. She closed her eyes and felt him pull one out of her wing. Jasper looked at him and bit the inside of her lip as she heard him tell her the story about fallen angels. "I believe you." She said softly. She looked at the feather that he had held. "Yes, I do trust you..." She said softly. She trusted people when it came to learning.
((It's fine. I know how it is with that super-storm since I am on the east coast as well. It's fine just post when you can.))