TheyCallMeFletch
(?)Community Member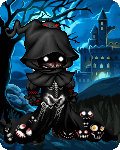 Posted: Tue, 24 Apr 2012 23:16:10 +0000
- - - - « - Quixos - » - - - -
- - ««

I am quite literally a killing machine...
Quixos continued to slant his eyes towards the ground, his fringe sweeping slightly in the breeze, casting sombre shadows across his features. He realized she would see through his scapegoat with ease, 'disorder' barely scraped the surface he supposed. Quixos raised his head, one hand nervously ran through the back of his hair before he replaced it back in the pocket of his jeans. A hollow laugh rang out between him and Love. His eyes seemed to bleed a little of their colour. "Of course I'm aware of what happened in that classroom: of the things I did, the things I said," His tones were melancholy, as though he were physically pained by his admission. "I know I was seconds away from performing an action against you; one which I would never have been able to take back." He met her gaze, almost flinching at the blatant accusation and suspicion found in her eyes. Quixos knew it was deserved, which was the hardest thing to take. He thought for scant seconds about what he could add, though he still realized he could not justify his actions. "The catastrophe that hit the school, the other day, I saw you... though, it wasn't me. He saw you, and he smelt something on you which marks you out as a threat. A pheremone detected in your sweat. You are hazardous, toxic to average humans."

Quixos continued to meet her gaze, wondering how to continue, to form it into words he could not recall speaking before. "I am tasked not only with destroying such threats, but to completely wipe you from existence, you and all those like you." There had been others in the past, meta-humans were not only restricted to Lockheart (though this was no doubt the largest concentration), and he had always killed them with extreme prejudice, whatever character they displayed. If a hundred innocent must die, so that one of evil intent among them could not cause harm to humanity, then so be it; it was cruel, demoniac and hellish work, but it was necessary. Quixos bit bark at his lip, through habit, restraining painful memories. All those times he was forced to watch through his own eyes, unable to act, as Nullis slaughtered those innocents like so much cattle; a psyche could only take so many blows. "It is in your best interest to leave this place, because I will not always be me. And when I am not, he will kill you."

Quixos caught sight of her gloves, wondering if her hands were perhaps how she transmitted the toxins. It would of certainly been convenient, and dangerousy efficient. His eyes flicked back to hers, a weak smile on his face. "I guess it must have been hard for you growing up, having to deal with the gifts you had no choice in accepting. Now you're a teenager though, you can dictate your own life, go where you want to go, for the first time in your life you truly do have the ability to move forward freely." Quixos laughed again, displaying a little more humanity. He couldn't remember whether that was a nervous reflex he used to possess. "That's why I can give you this one opportunity to escape, because I can confirm you're meta, and you still have your whole life ahead of you." Nullis screamed and raged inside Quixos, attempting to force his counterpart to destroy her where she stood, with no witnesses, to remove one more threat. Quixos prepared the virus designed to temporarily incapacitate his other half, it would 'tranquilise' him for a short time. Though Nullis deciphered and formed a little more of a counter in each instance it was used, in the few seconds before it took effect.

Without warning Quixos' eyes exploded into burning life, flaming torches of neon green. His clothing rippled with charged static as small currents of electricity jumped across exposed skin. His head began shaking violently as he staggered forwards a few feet. Nullis attempted to come screaming into reality, unable to deny protocol. "I wIll kiLL yOu." He was almost upon her, electricity in his fists charging to a deadly voltage, a fluid silver working up his neck and down his arms.

Just as quickly as it all happened, it was over, as Nullis slipped into what could only be described as 'sleep'. Quixos was left panting as he winked away various warning messages, nearly falling to the ground as he suddenly regained control of a two tonne body. On shaky legs he pushed himself back upright. "So, now you're a little more familliar with my... disorder... what will you do? Run? Stay? Or will you attempt to release me of this life?"
... I'm more human than you know.

»» - -