Mobius The Winter King
(?)Community Member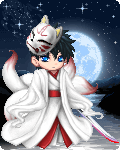 Posted: Mon, 21 Jan 2013 18:24:22 +0000
Another

hour
of frantic visions

Location:

X

The Ballroom with Natsume.
Feeling:

X

Sheepish/Curious



Shortly after moving to where he now stood, the brown-haired boy noticed that the song had changed over now, this one just a good as the last. IT seemed that the group that was playing now was more on the skilled side than the previous one. Hearing that the current song was dedicated to a girl, the young man couldn't help but grin at what he percieved to be a naive, mostly quaint, gesture for attracting a girl. Still, it was undeniable that musicians had their charm and that was the only concession he'd make to that argument. Taking notice of his surroundings once more, the girl that he'd been watching was instead watching him now. An unexpected turn of events to be sure, seeing as most of the other people around him either didn't take notice of his presence or scorned him if they knew who he was. The long-haired girl's attempts to look at him were more subtle in the beginning, however, it seemed that her inability to figure out something appeared to be leading into more obvious attempts to look at him.

Unexpectedly, the student turned to face him and seemingly stormed up on his location while her face became more than a little bit rosy, probably due largely in part to her own bold actions. Looking around himself before she spoke, Seiji noticed that she'd drawn the attention of a few of his current classmates and several of them seemed to huff and turn away. Meanwhile, one or two of them continued to watch from the corner of their eyes for a moment before going back to enjoying themselves. The girl with the glasses' voice drew his attention back to her and the fact that she had a face more fair than what he'd thought previously.

"Ah, konbanwa. The pleasure is mine then, Natsume-san."

He replied with a warm smile and a firm handshake.

"I'm Seiji Tsukasa. We've not met before, but I'm happy to make your aquaintence though. I'm sure that haven't met before because we're in different classes."

Following the last comment an 'Oops' went through his mind, knowing that he really didn't need to say that, but it slipped out without him thinking about it.

Very quickly, any ideas that he had about things to talk about drained from his brain. Slowly, but surely, being replaced by the overwhelming feeling of embarassment. Choosing to realign his focus on her face, Seiji saw that she was easily just as embarassed as he was right then. Perhaps she wasn't the type who openly went and talked to others? He wouldn't know, but his mind was certainly logging tons of information about her features and veritably burning the image of her face into his brain. Seeing as she was the first person who wasn't shunning him since that rumor incident, Seiji didn't plan on letting this opportunity to begin overwriting that mistake pass him by so easily. All he had to do was make friends and change his image, right? Contrary to how it sounded, the young man also knew that it wasn't going to be as simple as that. Hopefully in the next year he wouldn't have to share a class with anybody he knew from the previous one. Just maybe, he might also get lucky enough to have a class with the girl in front of him. She certainly was very interesting, especially after having the guts to march up and talk to somebody who was being blackballed like him, whether she knew it or not, Natsume had more courage than she seemed to know.
Buffer


[[Out of Character: Didn't quite come out as how I envisioned it, but it'll do for now.]]








The stilled reality begins anew,
Another time where

unseen

people appear farther away...