Sgt Gearex
(?)Community Member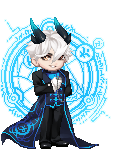 Posted: Wed, 25 Feb 2015 03:40:55 +0000
⇝"With great power comes great possibilities"⇜
I am here: The Beach
With: Tiona
=
=
=
=
=
=
=
=
=
=
=
=
☠
=
=
=
=
=
=
=
=
=
=
=
=
While Arina was building her balloon trap she noticed that Tiona was trying her best to mimic her. The spider girl held back a giggle at the effort because she knew there was no way that anyone would be able to copy her ability let alone the graceful weaving that only a spider could produce. However as the little dragon girl tried her fingers seemed to react as if they were becoming heated. Maybe Tiona was trying a bit too hard that she was actually causing so much friction it was building up heat. Arina wondered if that was normal of the young girl and returned back to her weaving.

Watching Tiona's excitement for the fresh gull for food was heartwarming at first, but quickly turned to a little stomach turning as she unfortunately got a look into the hole the dragon dug to eat her food. The savage way of tearing and ripping the bird apart almost made her want to bring up her own food. It was completely opposite to the elegant way Arina grew up eating. It was probably just a spider thing to be very precise and proper, but she had to turn away from the munching and squishing sound. It was kind of scary to imagine the little dragon to look this savage when she was eating almost like she was reverting to a more primal state. She didn't want to even imagine if Tiona was like that on a regular basis. Once the the noises of the young dragon's meal stopped is when Arina finally turned around to face the now smiling child-like Tiona she had met before except this time her face was littered with blood and feathers."You're very welcome, Tiona" she replied with a smile, 'At least she still has her manners.' It took Arina all she had to not be disgusted by the blood covered face of her friend, but she managed in the end. As they were about to head to the hotel, Tiona rushed ahead for a moment but quickly returned to the spider girl's side. "Don't worry I'm coming with you."

Suddenly without warning the ground began to shake and the clouds above grew dark as lighting danced across them. "What is going on?!" Arina exclaimed as she steadied herself with the shaking terrain as the ocean began to get rougher and splash as a structure rose out of the sea. She didn't even know what was going on as the temple that was rising from the depths came to a stop and a crowd from the hotel started to gather on the beach no doubt attracted by the massive structure that appeared out of the blue. Some people were literally throwing themselves at the building while others flew over to investigate. "They're all crazy, we don't even know what that place is." she muttered as she watched everyone jump into the temple.

A woman approaching them with a wave caught Arina's attention, she had a tail like Tiona's but had feathers on it instead of scales which made her wonder if they were different species of dragon. Then again she didn't know much about dragons to begin with to even make such an assumption. After all, you would never be able to tell she was related to her father with looks alone. "Yeah we are fine as far as I can tell. No injuries here." Arina replied with a friendly smile when asked about their well-being. She looked down at Tiona with a bloodied face and stifled giggled when the woman couldn't decide if she was hurt or not. It did look like the young dragon had been through hell due to the way she ate her food.




XOXO
XOXO


(( ooc: I lost what I had earlier and it made me mad. This isnt nearly as good as the previous one. :/ ))