Mewlicious Paladin
(?)Community Member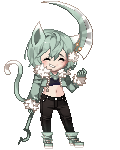 Posted: Wed, 13 Feb 2013 20:46:11 +0000
Emmett Richards
XXXXXXXX
Kirby
XXXXXXXXXXXXXXX
Aquais
XXXXXXXXXXX
Terra Ironpriest
I once killed a man with a wall; it was pretty funny.
Unfortunately, not everyone shared my sense of humor....

Please direct all questions, comments, and annoyances to Emmett.
I don't want to deal with you and he'll be nicer anyways.
I'm, Aquais, the Outrage of water.
I'm a powerful weapon, but I still like to have fun!
My father said I would carry his title some day. He never said I would carry it in shame.

┏━━━━━━━━━━━━━━━━━━╃╄━━━━━━━━━━━━━━━━━━┓


Kirby sighed, half annoyed, half depressed. Now they were worrying about him. It was kind of bothersome, and he also didn't want to burden them with thoughts about how he was faring. "Eh, I'll be fine. Once we get back to our universe, I won't have to deal with this anymore." Everything seemed good to go, so Kirby followed Rolverk and Fuuenken back to the group. He saw Emmett standing with Runa in her wheelchair sleeping, so he made sure to keep a distance from them and stick with Fuuenken and Rolverk.

Aquais nodded, she didn't think she'd want to do something like that either. "Yeah, if there's a test, it can wait until we get our powers back. And hopefully there won't be one at all. I wanna take a nice long nap when we get home!" She watched the exchange between Sayella and Perrin, glad to see that they were on better terms now. She didn't comment, but it was easy to notice that she was happy with the development.

Emmett stood with the sleeping Runa in her wheelchair, waiting for the portal to do something. Others students had gathered around as well, waiting like he was. He noticed Kirby with Fuuenken and Rolverk, but Emmett wanted to wait until they had their mental link back for them to talk. Kirby got impatient when he had to express his ideas in words, and in this universe, his impatience led to anger and confusion. Taking another look around, he noticed Terra standing near Impermissus. Emmett didn't really know him that well, but the two usually got along rather well, and he noticed that now they seemed kind of awkward around each other. He also saw Memoria sneaking away from them. Odd. He was kind of curious now. He'd have to talk to Terra about it later.

Terra stood there, waiting for the portal. She was kind of near Impermissus, close enough where you could tell they were together, but also far enough away where talking would be kind of awkward. She noticed Emmett glance over at them curiously, and following his eyes, she also noticed that Memoria was trying to sneak away. Terra decided to just let her go. She wasn't in the mood for talking with her right now anyways. She noticed she was still using the can that she had taken from the infirmary. She didn't want to steal it, but she couldn't just go return it now. There was probably not enough time, and not to mention she didn't think she could walk back to the portal without the cane. She guess she'd just have to sort of leave it here when the time came to enter the portal? It was better than nothing.


┗━━━━━━━━━━━━━━━━━━╅╊━━━━━━━━━━━━━━━━━━┛