Shifting Time
(?)Community Member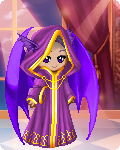 Posted: Thu, 07 Feb 2013 02:29:15 +0000
Saylea
The fallen siren angel of the water
Meala
The siren angel of life
Runa Fenix, Sai
&
Zessen
Flirtatious kitty assassin for hire, Runa's pet

&

Runa's partner and weapon
Kaelyn Levea
&
Rana
The Naga Princess

&

Kaelyn's guardian
Starlite
,
Emily
&
Rolverk
A creature of earth

&

Starlite's partners and weapons
Starlite smiled at the two before she shook her head "Well we can hope. But wouldn't your sister be happy to have a niece?" she blinked and looked up hearing the voice. "Actually.. Maybe we should gather our things from the room and get ready for the portal to open for our return." she looked at the rest before she moved to sit on a bench "We'll just have to wait."

Rolverk noticed Kirby's flinch and frowned a little. Nodding a little "Yeah sorry pal. I didn't know." he heard the announcement and blinked. Listening to Starlite, he nodded again "That's a good idea Starlite. I'll get the stuff and be back in a bit." he looked at Kirby "If you want to come you can, or you can stay and watch Fuuenken and Hikaru fight over the fact that Hikaru is crushing on Starlite."

Emily looked at everyone before she heard the announcement. She jumped a little and the noise woke Miyaru. Then she started to cry and Emily frowned "Alright I'm not mommy or daddy… someone take her from me."

~~~ ~~~ ~~~ ~~~ ~~~

Kaelyn smiled lightly as she heard his question "Well I think Clear wanted us to attend classes. I could be wrong. I'm not sure really." she moved to take her plate to the kitchen when Rana came in and cleared the table in front of Kaelyn. She sighed lightly before she just sat there and looked at Kiaku "Ummmmm… zoo.." then she jumped a little as she heard the announcement.

"Well I guess you better finish your food so we can clean up and get back." she smiled as she got up and went to make sure they had anything before she returned to see if he was ready.



Rana heard the announcement and continued with the dishes. She would have them done with plenty of time.



~~~ ~~~ ~~~ ~~~ ~~~

Runa opened her eyes just enough at the question before she looked at Emmett. "She half siren… You know what a siren is? Do you know what a siren does to men? She may have known my brother longer then I have but I know that she is not safe for him." she closed her eyes again only yo open them again as the announcement was called out. "Guess we better head back." she sighed before she finally drifted off.

Zessen smiled lightly at his sister "It's a guy thing I guess. Or an order sibling think." he shrugged "Or maybe it's just that you are so optimistic. Hard to say" he glanced at Perrin and chuckled "Like to see you try." he looked around hearing the announcement "I guess going to the dorms in pointless…" he moved over to a tree and sat down waiting. Looking at the portal in the sky "Is he kidding?"

Meala was so lost and confused. She just stopped listening and got up to move with Perrin. She smiled as he kissed her cheek. Stopping him for a moment as she grabbed his hand pulling him back. She kissed him on the lips, jumping slightly from the sudden loud announcement. "Well… what should we do now Perrin?" then her eyes widened "Oh no… Once we're back… This pregnancy is going to be much faster."

Saylea opened her eyes to the announcement and got up. Making her way back to the others she looked at Perrin and sighed "I'm sorry…. and congratulations." she got close whispering in his ear "You better see this through because if you don't and her hurt her in ANY way. I will kill you." she stepped away and walked over near Zessen.

~~~ ~~~ ~~~ ~~~ ~~~

Hielet looked at him before she smirk "At least it gets you to shut up." she hissed at him before she followed him to the stairs. Looking down she rolled her eyes at him. She started walking down them without a thought.
Hielet Manwa


Evil psycho witch
((
O
ut
O
f
C
andy: Reply to Ninja, TB, Outlaw, Dark, Kiaku and whoever else if I missed someone.))