Silhouette_of_the_Shadow
(?)Community Member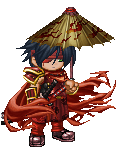 Posted: Wed, 01 Oct 2014 06:46:22 +0000
Z
ephyr
S
aidren
Possessed Sword Caomni The Spelldrinker
Zephyr checked to make everything else was working alright after Emmett cleared up his head injury. It seemed other than the knock to the head the trees broke his fall for the most part. Emmett spoke of having an annoying sword partner as well, which immediately got his interest. "Glad to see I'm not the only one, maybe we can try and let them annoy each other someday. I could certainly use the peace and quiet for at least a moment." Laughing at the thought of that, Zephyr noticed a few more people managed to find their way to the group. When Terra mentioned they probably found everyone they could for now he nodded and leaned against a nearby tree. "You may be right, although we still have to meet up with the rest of the school." As she then mentioned Emmett would talk to the trees when he was done healing everyone. Jerking away from the tree he was leaning on Zephyr examined it closely and poked at it. "They can talk? Uhh my bad about leaning on you tree." Glancing over his shoulder he actually took a closer look at who else joined them, immediately remembering some of them from the dragon battle.

Simply watching as they began healing the wounded Zephyr scratched his head where his wound was earlier. "I gotta do something in the meantime...ah I got it!" Turning around he began climbing up the tree he was leaning on a second ago stopping a moment to pat the trunk of it in the place of an apology. "While everyone get's patched up I'm gonna climb up here and see if I can get a look of the surrounding area. I should be able to at least get an idea of which direction we need to go." With that the boy disappeared into the foliage of the tree as he kept climbing to the top. "Alright Caomni, we gotta do our usual scouting maneuver so I hope your ready." Once he reached the top he found the most stable branch he could and carefully stood up on it as he unsheathed Caomni. Taking a few seconds to measure his throw he chucked the sword into the air as hard as he could, almost losing his balance in the process. After a few seconds Caomni came spinning back towards the ground, and luckily being caught deftly by Zephyr before falling all the way. Returning her to the sheathe Zephyr began his descent only to hear the crack of the branch. "Uh-oh...not good!" As the branch broke Zephyr went tumbling through the trees branches only to come crashing to the ground.

Sitting up he dusted himself off and looked to everyone else before his face turned a slight tinge of red from embarrassment. "Let's just pretend that last part didn't happen okay?" Coughing as he regained his composure he stood and walked towards the middle of the group so everyone could hear.
"Okay from what I could see, the jungle ends to the south and southwest of here. South I think I could see a lake, and a hill further south from there. To the west though I could see some kind of tower in the distance...so those are our options. More importantly though did everyone see Zeppy land right on his tushy!"
Slapping a hand to his face the color flushed right back to Zephyr cheeks as he spoke from behind his hand. "My call is we should make for the hill or the tower so we can get a better view of the island. If one of you has a better plan though I'm all for it." Saying his part he removed his hand from his face and tried to shake of his embarrassment that his partner so conveniently brought back for him.
- - - - - - - - - - - - - - - - - - - - - -
"I've been fading away, I've just been waiting on a call to reach my veins! Ready or not no attention to waste!"
Zephyr talks like this
Caomni talks like this
Location: Wild Jungle
Company: Emmet, Terra, Lucina, Emlyn, Kiaku, Yoka, Tiona, Runa, Saylea, and Zessen
Condition: Disoriented