Cuwen
(?)Community Member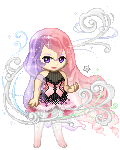 Posted: Sun, 21 Sep 2014 23:12:17 +0000
═══
═══
I am here: Platform
With: Students
Thoughts: What am I going to do now?
⇝"We are the daughters of darkness and time."⇜
Dietra had been watching the action closely from the sidelines. She and Discord were still inside the shadows, but they could see everything clearly. Discord had barely stopped hissing since the action began to pick up. She didn't know who was friend or who was foe.
Suddenly, something on the edge of the platform caught Dietra's attention. She materialized into her human form and raced through the shadows until she was kneeling on the platform right next to the object that had caught her attention. It was her suitcase she had packed for the trip, and there was a big bite out of it!
With her jaw agape, Dieta slowly reached in through the bite-shaped opening of her suitcase. Chaos was raining down behind her, but it didn't seem to faze her. She slowly pulled out a handful of clothes and gasped in horror at what she saw. Her cashmere sweater and silk skirts were ruined! They were shredded! Her Pashmina scarves were destroyed!
Then, she saw the most horrific thing. She reached into the suitcase with a shaky hand and pulled out a mangled pure-white sarong. It had been placed as an offering in one of the few Fury temples that were still in the world by a small group that still worshipped the Furies. The fabric had been soaked in virgin blood for a month and then bleached white. Then small golden threads were weaved into small sections.
Dietra gripped the sarong in her hand tightly and then shoved the rest of the suitcase and tattered clothing off of the edge of the platform. She was seething. She got up and glared at the dragons, who were paying her no attention. She didn't care. She'd yell at them anyway! She mistakenly assumed it was the dragons' fault that her clothing was ruined. She started to storm over to them.
"You overgrown, bumbling idiots! Look what your fight has done to my clothes! They were priceless! And this!!"
She held out her scarf to the dragons that were still ignoring her and continued to walk over to them. Her hair was starting to pulse a dark, bloody red. She barely felt the shaking of the platform.

"You can't replace this! This can't be replicated! Do you know how long it took for this to be made?! I will never have another article of clothing like this again! You infantile monsters are..."
Suddenly the fire dragon swooped his large fiery tail along the platform and Dietra was hit. She was flung backward. She hit the ground hard on her back and just stayed there for a few moments. The air had been knocked out of her, she saw stars in her eyes, and there was a loud ringing in her ears.
After a few moments, she turned to her side and went to push herself up. Before she could even sit up, though, a few drops of blood fell onto the white sarong she was still gripping in her right hand. What in Tartarus?
Dietra reached a hand up to her face, touched it, and then brought it back down to look at. She had blood on her hand! It was her blood! If she could see herself, she'd see that a cut was now on her cheek and her nose was bleeding. How could this be happening? She didn't get hurt! She didn't bleed! The only time she had was when she had first come to school and that big evil guy was attacking the school. He had sent so much dark shadows and energy surging through the place that it had sliced her badly. But this hadn't been an attack with shadows. Why was she bleeding?!
She started to suspect something horrible, and to test out her suspicion, she tried to teleport to Tartarus. When nothing happened, her heart began to race. She tried teleporting to Olympus, but once again she didn't move! She was trapped in this dimension! She was cut off from the source of her power! She could get hurt like any mortal!
Dietra's breathing began to get shallow and ragged, which just made the blood flow faster.
⇝"We follow the guilty, we punish the crime."⇜
((ooc: ))
((Raise the Dead))
⇝"Blood has to flow and that blood will be yours."⇜