Magical Girl Kippy
(?)Community Member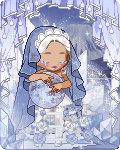 Posted: Fri, 25 Jan 2013 04:59:59 +0000
⊲

xx

So much bad and little good, broken promises and cold hearts.
Breaking slowly under all the bad, cracking slowly under the pressure of the good

xx

⊳
➸
xx
✦
xx
➸
xx
✦
xx
➸
xx
✦
xx
➸
xx
✦
➸
xx
A
swirling column of dirty feathers accompanied Yin's arrival. At first it seemed like she would make the landing, but as she approached the ground all her strength drained in one move and she fell to the ground. Passing through the barrier had been... Excruciatingly painful, passing from the mortal world into a supernatural world...Luckily she managed to land on her back with her wings tucked around her, better then most of the landings she had attempted in the past. She lay there for a moment, in the middle of the parking lot, before slowly sitting up. The girl's appearance was pitiful, the wings on her back were tattered and dirty. Her overall clothing was tattered as well, she had bandages around her wrists and a metal cage like collar around her neck. Her hands fluttered up to the spoken collar, clenching her hands around it and wincing at the feel of her cold knuckles against her neck. It used to be a cage, imbued with a magic to keep the bad from getting to her...



➸

xx

S

he let go of the collar and slowly stood, clenching her hands into fists at her side as pain racked her body. Numerous scratches scored her body, with several long gashes on her back and her stomach, like she had gotten into a fight with a large animal. She took a hesitant step forward, stumbling a bit. "Yin can already...Sense all the bad, she said to herself and clutched her head for a moment. She just hoped that her brother Yang wasn't at the school...That would just complicate things, the last time she had seen her brother, it had not ended well for her. She remembered fighting, fighting always brought out that protective side of her...Even though she couldn't protect herself, she had always had the virtues for that.



➸

xx

D

oing a quick aura sweep, her mood brightened slightly when she sensed at least one virtue... "Perhaps...Chastity?" She spoke to herself once more, her powers of aura sensing had greatly declined over the centuries, she could hardly ever be stable enough to use them. Walking a few steps forward, she stopped again as she felt the two aura's of the sins...And an aura she couldn't recognize, near the school, and a few other scattered miscellaneous auras. She started walking again and directly avoided Lust when she neared the front of the school, to not do so might just send her into a downward spiraling headache...And those always lasted for hours, with her curled into a ball and screaming for someone to kill her, or something of the sort. She started fiddling with the collar around her neck again as she approached the doors of the school, avoiding eye contact with the sin but still feeling a stab of pain in the back of her skull.



➸

xx

S

tanding in the doorway for a moment, she let the good and the bad aura's of the students mix in front of her gaze. She could see what the good ones had done to be good...But the bad were invisible to her, she felt a twinge of pain whenever she saw them though. Walking up to Chastity she put her head on his shoulder. "Chastity...There will be a lot of bad...Won't there be...?" She asked in a slightly depressed and worried tone, every time she saw a bad aura it sent pain through her, and having all of the sins there would just make it even worse...She could still see Lust out of the corner of her eye, out of all the sins she was sure that Lust and Pride caused her the most pain...