Doc HABIT Strider
(?)Community Member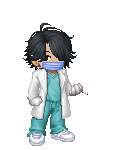 Super Lunatic
8,800 Points
100

100
Posted: Mon, 06 Feb 2012 01:17:31 +0000
weddingsaint
Doctor Murdoc Niccals
weddingsaint
Doctor Murdoc Niccals
Even as a love story, it's pretty poorly written, the movies are a little better I hear, campy, but a little better written. I mean they actually even showed the fight with James, the book, we don't get that, not that that's what I decided to read the books for, but it doesn't matter.
I want to thank you for not being rude
biggrin
I have to agree with you about the fighting thing, I watch the movie before I read twilight and when I got to the part that James is killed I found it to be a little anti-climatic, I wanted to read how they killed Him like I saw in the movie but it didn't happen that way xD but I don't find it to be poorly written, I guess its just a matter of opinion. :3
I try not to be rude. Doesn't always come out that way, but yeah. That part was definitely anti-climatic, I'm almost finished with Twilight. The reason I think it's poorly written is that there really wasn't a lot going on throughout the book other than everyday things, most of the romance I've read had a little bit more going on than that, even in the romances set in the modern day, they have some kind of conflict going on, and also for the little stupid things Bella puts in like when James kicks at Bella's broken leg and she screams in pain, but is shocked to realize she screamed. I mean, really Meyer? Are we to believe that we are so stupidly unobservant that we don't know we're the ones screaming in pain? After all, Meyer purposely wrote the description of Bella to be vague so that we might slip into her shoes.
Hmmm...well you have to remember Bella was kinda out of it when James broke her leg, like an out of body experience, her conscious mind didn't register the pain yet. And don't worry there will be a love triangle in the next book :3 but this is Bella and Edward's relationship when its just starting out we can't just throw a love rival in right off the bat now can we?
I dunno about the out of it thing. She didn't seem that out of it at that point to me, she seemed more out of it at just before the point where Edward and them come in. As for the love triangle thing, I didn't necessarily mean that, I meant that they could have put some kind of obstacle between them like one romance I read where the guy had to go to war, or that Carlisle could actually have objected to their "love". Something that would have made for a less boring plot.