Belethiel
(?)Community Member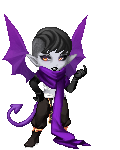 Posted: Thu, 02 Feb 2012 23:15:40 +0000
Alright, since pretty much anything has a better story than the novel Twilight, I decided to compare it to the latest Zelda I have played (... I am late to the party because that game is kinda old...) since it amuses me because it has wolfy shapeshifting ablilities like Twilight, and then there's the fact the land is "covered in twilight" and the twilight is evil. It's also the polar opposite of Twilight as far as plot goes.
Just a rule: No spoilers for the game please, I've already had it spoiled enough.
Of course, I think Twilight Princess is a better story, and it's not even a novel!
First off,
memorable characters.
They speak for themselves, read the list, but I warn you, it contains spoilers, and I haven't read the whole thing. Every single character in this game has a distinct personality and characteristics. They all look and behave differently and have different speech patters, and even if they only said a few words, you could see their personalities, and a lot of them just stick in my head. This goes for other Zelda games, which are known for strong side character development (even though Link himself is an empty pair of shoes, I feel like he doesn't need to be a full character, the story is fine with him just being a chess piece for you to play with, but a book isn't and never will be.).
Twilight's background characters were rather bland. I forgot many of their names, and even though I do that with novels I've only read once, I still remember what the characters did and who they were. The humans in this story kind of blend together, as do the Cullens. Emmet barely does anything and doesn't have much of a personality outside "he's a big strong man who makes dumb jokes and eats bears even though he should still be traumatized from being mauled by one". And Alice is just Edward in a dress with boobs. She's shallow, manipulative, and doesn't care about humans at all. Esme is just.... there. Smiling and cooking and being what Meyer thinks is a good wife. Then there's the wolf pack, they act and sound alike as well, aloof and speaking in that outdated vernacular all vampires seem to speak in.
The main characters, Bella and Edward are really boring. Unless if you're reading into Twilight's subtext or just looking at the alarming number of unfortunate implications with this couple, there is nothing there but two shallow people who do or say almost nothing interesting. Characters like them are usually just cardboard cut outs to fill out the background instead of making it more lush and beautiful.
The role of women is different in these stories. Nintendo and other game manufacturers have been trying to appeal to the female demographic and become a little more feminist by adding a lot of girl power to new games. Even though they still use damsels in distress, they're still strong women with minds of their own (and sometimes you have to rescue the male version of that trope, i.e, Makar from The Windwaker, or the Ordon children, or Prince Ralin in Twilight Princess). The distressed damsel is and probably always will be a character staple in Zelda, Mario, and other similar games. But, anyone who's played these games will tell you flat-out; Princess Zelda is pretty badass. She helps Link many times by being a guide, and helping him in battle. She's smart too. (although... I was dissapointed at how easily she gave into the Zant.)
Then there's Midna. Where do I start with her? She has a very dominant personality, and always tells Link what to do and reminds him in a snarky way of what he's supposed to be doing. I like how there is a strong female presence throughout the game, and she obviously isn't weak and has a mind and motive of her own. Link would not be able to get through everything without her, she provides many powers and abilities he doesn't have, and is quite helpful. A girl like her just won't fly with Meyer, unfortunately.
Then there's the cool minor characters like Telma. I really like her, she's motherly, and a bit sassy and tough. Right after I met her, these soldiers walked into a bar that she owned, offering to escort her and Ilia to another village to meet with a shaman. They were behaving like sexist assholes, kinda. She then casually told the soldiers about all the monsters in Hyrule Field, the area they would be crossing, and they all ran off, screaming. Yep, the supposed manly men are a bunch of cowards! Then she was all like, "Alright. Let's go. Link, kill anything that moves for me while I drive this horse wagon."
Pergi "wears the pants" in her family. Although she mainly stays indoors and does housework because her sons are troublesome and her husband is lazy, well... there are women like that.
There's a female who wears armor and fights the bad guys and hangs out in the bar with a bunch of men. She's more of a knight than any other soldier of Hyrule.
There are more here, I'm sure.
3nodding
These are pretty strong female characters, and Meyer's story is devoid of any. They're all dependant on men, or owe their position of power to men, and they all need men to help them. They're never self-made. Twilight Princess contains
at least
two self-made women, Midna and Telma. Even though they are helped by Link, a man, but really... who isn't helped by the hero of the story? They're still not characterized by their relationships with a male character alone, and don't owe anything to men as far as I know, I can't say the same for women of Twilight. Also, I was pleased to find that the Bechdale's Test was broken very quickly in this game, as we see Ilia and Telma talk about something other than relationships, men, or "feminine" issues early in the game. Or, you might count Midna and Zelda's conversation as a test passer. I'm pleased with this.
Each and every one of them is characterized as being a guy's sister, wife, girlfriend, or is just jealous of Bella because she has Edward. That is their main point, and every single one of the Cullen women owes their vampirisim to a male, and they freaking live for their mates!
And.... Twilight Princess's Wolf Link is way cooler than Jacob and the rest of the tribe. Wanna know why? Because he doesn't imprint and get all pissed off at women and rip their faces off.
Also, since Link is silent, no wangsty hero here! No one else whines about nothing either, so far.
Does this game make any other anti giggle whenever they mention the land is covered in twilight, and twilight is bad, and makes people into ghosts and trapped in time forever in an endless darkness?
lol
I just picture Twilight books covering everything. It's kind of creepy yet hilarious at the same time.
TLDR;
There are strong women in Twilight Princess, where Twilight has none.
Twilight Princess and many Zelda games have very memorable minor characters who aren't even named in-game that are well-rounded and have depth, where Twilight just has a lot of names and virtually no stable characterization, it's filled with flat characters. Unless if they're Leah or early Jacob and Charlie.
The Legend of Zelda is pretty much wangst-free thanks to a silent hero... who I don't think would whine about anything. The only characterization points Link has are that he's very brave and a good role model.
Wolf link PWN's Meyer's shapeshifters. I mean... FREAKIN ELECRIC HAND ATTACK... thing. And he can see smells too.... He howls and summons stuff too.
Also, B=better romance. I see it with Link and Ilia, they're childhood friends that look like they'll become more than that as they fight through trials and tribulations together. That's better than falling in love at first sight any day.
Yeah, yeah. I rambled. I'm just tossing around thoughts. Anyone else have more to contribute? ... Aren't the writers for this game totally awesome?