Mangledhasleftthebuilding
(?)Community Member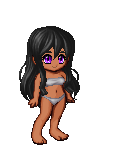 Posted: Sat, 15 Sep 2012 22:07:56 +0000
Minerva de Sade
The Mangled Masterpiece
Yeah, I often got annoyed with the way she made it out to seem like her vampires were indisputably gorgeous. To everyone. I myself am not a big fan of unmarked skin. To me "perfect" skin means scars, birth marks, maybe a zit or two. Something to indicate that um, you've... experienced things. It's like feeling someone's hands and seeing that they're completely smooth; it usually means they haven't done much work. I like rough hands. I like hands that I know have done things. Same thing with skin. "Perfectly" smooth, "perfectly flawless" skin in society's eyes are very, very different from what I consider "perfect" or "beautiful".

Even Bella. I mean... she complains about looking too plain or not being pretty enough, but the way she's described is exactly like these teen models you see on TV. Smooth, light skin. I don't recall her complaining about acne. Long brown hair that happens to be somewhat manageable enough to where she can brush it back into a ponytail and walk out of the house without looking like she got struck by lightening? Please. I spend 20 minutes flat-ironing my hair before I can even think about going outside. ******** b***h. Short. Skinny. ******** that. Maybe I would have a little more sympathy for Bella and her inferiority complex about her appearance if let's say, she came to Forks with a horrible sun burn, had super frizzy hair that poofed up if you even say the word "humidity" in her presence, had one lazy eye, got one pimple, was at least slightly over or under weight, or had one tit that was noticeably bigger than the other. Something. Anything. Thunder thighs? Big forehead?

There aren't any fat people in Twilight, period, now that I think about it. Nobody was even fat BEFORE they became vampires.
♒
caligulasAquarium
_______________________________________

*applauds* This is a good post. Yes.

I can totally agree that Bella would be a lot better of a character (and I could relate to her more), if she actually had flaws like this. If she actually had to work for her looks like most people do.

I get it that there are some people who don't get acne. I get it there are people who have awesome hair. I get it that there are people who are "naturally petite". What I don't get is how one girl I'm supposed to "relate" to as a reader can be ALL OF THE ABOVE. I mean, most teenagers get acne, even if it's very light like I (thankfully) had. Most teenagers have to do up their hair in the morning. Most teenagers have weight worries (which can be blamed on the media.)

I would like Bella a HELL of a lot more if she were the kind of teen who worried about what she ate because she didn't want to get fat, if she constantly had to use acne scrubs and face masks because she was worried about zits, and/or she had to fiddle with her hair for a half hour every day, on top of washing it just so.

I'd also appreciate it if Meyer made her seem like a normal person, and not "I don't have periods, ever. Oh, but I missed one but I'm normally like clockwork I'm pregnant ERMAGAWD."

A little continuity isn't that much to ask.

While we're on the topic of fixing Miss Swan, might I suggest we overhaul her brain? It doesn't seem to be working when she needs to be able to find features of her face, and her personality is so awful.
Luckily enough, I got acne occasionally for like, one year of my entire life. Age 12; same year I got my period. After that, nothing. Sometimes before my period, I get one pimple somewhere on my face where I barely notice it and then I forget about it as quickly as I find it. Awesome. But not average... which Bella claims to be. Average.

I'm not overly fond of her personality, either. But at least Edward got her before anybody else had to suffer. And vise versa. Edward is... just no. I'd rather be single and celibate for the rest of my life than to go on one date with either of them. They're mindless douchebags so naturally they'd be attracted to a mindless b***h.

Funny; I love the s**t out of Twilight, but I can only name two characters I don't hate.