Belethiel
(?)Community Member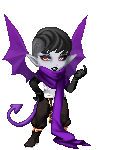 Posted: Sat, 02 Jul 2011 00:29:55 +0000
supervamp78
Unofficial Leah C
supervamp78
First i said i couldnt even spell it. so obviously i wasn't claiming to be a grammar police.

Second i wasn't delfecting her argument i was pointing it out. it bothered me that she claims to be one but cant spell it.

if you want me to get to the point first off its silly to to say its racist because of that.

that's like me saying that a story about blacks in the ghetto or in a gang, is racist to me. that just seems like it was just something she wanted to add to to the list because she could.
You've also been implying on the other thread that you're fairly well read, yet you come off as pretty illiterate.

Prove why it's silly. Give specifics from the text or from the film.

And there have been articles about some members of the actual Quileute people who aren't happy with their representation in the Twilight books. It's fair enough, given the alterations Meyer made to their history.


PS, when you say 'first off,' we usually expect more than one point. :3




ETA: Sorry for derailing your thread here Alex, but discussions with supervamp are just so fun.
Well the fact that i can read and comprehand what im reading well doesn't have anything to do with my grammar plus they are two different things anyways they go hand and hand but don't have to be effected by each other.
She said she felt offended by the fact that the indians were living in shacks as if myers was trying to say that all indians are poor and live on reservations.
But that's just a silly overreaction. like she was trying to find anything to hate it more.
And i guess you be waiting wont you ; D
What's your problem with me not liking Twilight? A lot of people I've met don't like My Chemical Romance's music, or the book series The Mortal Instruments, but I ignore them and go on liking what I like without calling anybody a 'hater.' They just have different taste than I do. But, I see plenty of reasons why Twilight is a bad book, and I support my opinions rather than just saying "twilight sux." I'm sick of people thinking it's so good, when really, it's not.
Silly?! So if I react to racisim, it's silly? What am I supposed to do, let other people and myself get dragged through the dirt, and be racially profiled? What if somebody told you all black people are stupid? Or do you beleive that? Anyway, that's the same thing. Navive Americans are poor = black people are dumb. I've heard that one, and I hate it when I hear any kind of racisim. It's wrong, and it doesn't matter if a latino person is beign hateful toward white people, or a white person is hateful toward latino people. It is the same thing. Twilight has racisim in it, and I'm not surprised, Meyer is a Mormon. There are other mormon beliefs within the book as well, such as early marriage. Bella is nothing but a mouthpiece for the author's beliefs.
I'm stimply reacting to a negative stereotype that is being proliferated through Twilight.
Please Google Mark Reads Twilight. The blog's archive will be the first result. The author of the blog is a male feminist, and he will also point out the racisim, eliteisim, and homophobia displayed in the books, along with the sexisim. Not to mention Meyer's horrible writing, absence of plot, and lack of decent characterization. If you're to lazy to read the whole thing, or will get all pissed off at it, I will go find the blog posts only about the offensive material in Twilight for you, if you ask.