Ea the Lady of the Depths
(?)Community Member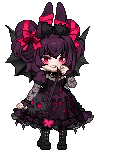 Posted: Wed, 28 Mar 2012 02:46:31 +0000
okay im doing a survey of people and fandom ok so just answer honestly about it
1. Who's your fav character and why?
2. Death note or Life note?
3. Ryuk or Rem?
4. What's your favorite episode and why?
5. What's your favorite quote and who said it?
6.If you had the chance to date a character from Death Note, who would it be?
7. How long have you been watching Death Note?
8.What was the one part that you ended up laughing? crying?
9. Do you think bringing a Death Note to school is a good idea? Why or why not?
10. On a scale of 1 to 10 (1 being the lowest and 10 being the highest), how would you rate this anime?
just in case ur wondering wat my answers r:
1.L cuz he's so cute
whee
2. Death Note to kill my enemies
twisted
3.Ryuk cuz he's cool
xd
4. the firts episode because it has tons of suspense in it
5. "i'll take a potato chip.....AND EAT IT!!!!" -Light
6. Prpbably Light cuz he is somehow "god"
7. been watching it since it it came out
8. i lawled when Ryuk had his "withdrawal symptoms" when he couldn't eat apples for a while. i cried when L died
9. if bringing a Death Note to school to prank some asians and fake to of your friend's death for fun then yes. Otherwise, they'll think ur possessed or something.
10. 10, best anime by far