Ava Corvidae
(?)Community Member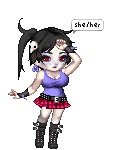 Posted: Fri, 13 Apr 2012 03:16:04 +0000
Note: Please don't use this thread to vent about toys you just don't like. That's plain rude, and even if you have a point, I will not allow it. Also, the toy you want to discuss does not have to be of bad quality; I've had plenty of decent quality toys that nonetheless made me want to throw them through a window because of how bad an idea it was generally.

Note numero dos: I made a goof. In my defense, It's been some twelve or thirteen years, so I honestly shouldn't be expected to easily remember the distinction, but... I managed to confuse Giga Pets with Tamagotchi. I've edited this post to reflect this new information, but if you read the thread, don't be alarmed by the first few posts referring to Tamagotchi instead. I've also shortened it to the relevant bits, to make the post less of a wall of text.

One particular toy that tends to top is a little thing I'd gotten for my birthday one year, a Giga Pet. If anyone needs help remembering Giga Pets, well, they were pretty similar to Tamagotchi. Both were released in around late 1996 and early 1997, although Giga Pets was more than likely created to cash in on the virtual pet craze Bandai had started. However, Giga Pets came with four buttons. What those buttons each did, exactly, I can never remember off the top of my head. One of them was a mute button, though, and I distinctly remember none of the toys in question coming with an on/off button.

However, one thing that made Giga Pets and virtual pet games in general both fun and interesting and somewhat tedious was the fact that the virtual pet needs almost constant care. Another thing about Giga Pets that made it kind of a poor toy choice on my parents' part is that like the aforementioned Tamagotchi, your Giga Pet would die if you stopped paying it attention.

Now, Tamagotchi came with one feature that made it fun to play with and thankfully merciful: it came with a tab you could insert to pause your game if you needed to, if you had to put it down for dinner or school. That's where the functional similarities end, aside from a Giga Pet never actually growing. Giga Pets had nothing you could use to actually pause the game as I remember, aside from letting your pet sleep for a few minutes. Meaning it was easier to kill a Giga Pet, because among other complications, it needed near-constant attention, even more than the Tamagotchis did.

Bear in mind, the target audience for games like this was a really young age group, around five to ten years old or so. Young children tend to be impressionable and prone to becoming attached emotionally to animals that make them happy even if they aren't real. I mean, really. Who decided it was a good idea to guilt trip a little kid into constantly playing with their toy by basically holding their virtual pet hostage?

Thankfully, it was possible to start over with another Giga Pet if the first one died, provided the battery was still good. Still, a toy that compels kids to play with it near constantly by taking advantage of their unwillingness to kill their pets by neglect comes off to me as uncharacteristically cruel for a toy designed for young kids, so I consider it to be the worst toy I ever had.