char fashionable
(?)Community Member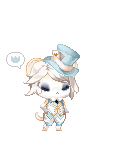 Posted: Wed, 31 Oct 2012 17:23:30 +0000
Okay, I know there are shippers floating around here.
Well, instead of making a ton of threads about your favorite pairs, why not just discuss them all in one spot?

But first, let's lay down a couple ground rules:
Keep things civil, if you don't like someone's ship or vise versa, then that's fine.
Everyone's entitled to their own opinions. If you must debate, be chill about it.
I shouldn't have to tell you to play nice, but we all know how shippers can be.

However, a note to curious on-lookers and new fans!
Take a gander over here at this lovely thread made by Cielo718. ~
It explains the general plot and feel of T&B and touches especially on how T&B is not of the yaoi genre.
Pretty much all of these pairs aren't canon, unless stated otherwise by official sources.
So if BL or anything of the sort isn't your thing then relax, that's not what T&B is about and you can totally enjoy it without all the slashing.

Now that we've got that out of the way, come on, let's chit-chat.

And hey, if you're a collector of T&B merch and want to chat about your collections, come and visit the T&B collector's thread, too!