Nyanobyte
(?)Community Member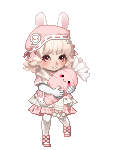 Posted: Sun, 13 Nov 2011 00:03:37 +0000
aphelia the vampire
Nyanobyte
aphelia the vampire
Nyanobyte
aphelia the vampire
Nyanobyte
Mercury: I-I couldn't struggle right now, e-even if I wanted to... ////;; // Me: *makes Mercury disappear from Damien, then throws a cage over Damien to keep him from interfering* Okay, I've decided that I want to hurt Mercury again now~ Escape from there, and I will kill him on the spot. : > // Mercury: *now in his creators' possession once again* Pl-please, no.. *doesn't have much will to fight anymore in his condition*

Muahaha. But thankfully Merkyu is mine and I can hurt him whenever I want to~ < w> Awww. I hope you get nice arts! <333 Writing is fun. <3

Damien; >:U Why do you want to hurt him? *Taps his foot on the ground* He doesn't deserve that. ;A; *Makes vines grow and ensnare you* : D

Yes thankfully he is yours. >w< I hope I get nice art too~! I should probably try to draw a reference of Pisica though OTL Writing is very fun~! : D
Me: Because it works on you. *gives Mercury internal injuries* I can still hurt him like this, you idiot.. = A=
Mercury: *notices the vines, feeling a sense of relief that he wasn't going to be tortured a second time* Damien, I--... Nngh.. *collapses onto the floor, trembling in pain* I-It hurts... Stop.. M-make it stop..

Yepyep~! emotion_kirakira I'm sure you will! <3 That would be helpful. Mhmm~

Damien; *Stops the vines* .A. Mercury, please stay strong. ;A; Because I can't stop the retard hurting you. T^T

Lol, it would be. And yays for writing. : D
Me: As a punishment for insulting me, I will go harder on him this time. = 3= Or... Maybe.. Aha! Perfect idea. *makes Genji appear*
Genji: Oh? What do we have here...?
Me: I'm offering you a good time, free of charge. o u o
Mercury: W-wait, you don't mean...
Genji: Mmm... How could I refuse such a delicious offer.. *slips off his glasses, licking his lips*
Me: *turns to Damien* So, care to apologize for insulting me, or should I let Genji do his worst?
Genji: Oh? Are you using me for one of your little schemes? You do know that if it's me, he will enjoy this. Are you forgetting about my pheromones and what they do to people?
Me: I'm trying to hurt him, not the glowing one. *points to Damien*
Genji: *looks around* Who?
Me: = A=;; Put your glasses back on.

Yes it would~ Genjiiii... emotion_kirakira He's another character I need to art whore.

Damien; *Eye twitch* I am sorry for insulting you. Please don't let that happen to Mercury. ._. Please. I'll beg.

Ah you do? >w< You kmow, Genji should have a fun time with Damien. :3
Me: Beg. You have until, well, until it's too late. Genji, you can start on him whenever you'd like. c :
Genji: Understood. Let's work our way to it, shall we? *grabs Mercury and slams him against the wall, leaning in and kissing him roughly, pinning his arms against the wall so he can't get away*
Mercury: *tries to struggle away, whimpering in pain from being kissed with a fractured jaw*

Yes. ' w' I love him. <3 Baww, what would be the fun of two megane-type characters together? x D And Damien's not hurt. = w =