Black Kaida Love
(?)Community Member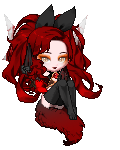 Posted: Tue, 29 Jan 2013 06:39:01 +0000

Either his dear mate had not heard him tell them not to go downstairs or she had just chosen to disobey his direct order, for not long after he had arrived in the foyer, she did as well. He was about to speak to her and the male who had just entered their home as well, when it sounded as if someone or something literally threw themselves against the door. It was in a flash that his mate was outside to help whoever it was, or maybe not exactly help, that would be exaggerating a bit. Ashton sighed. Now there would be two new humans who they would have to keep prisoner in order to keep their existence a secret from the world. He was sure to keep an eye on Aurora, making sure she didn't go a bit crazy being so near two humans who had yet to be bitten at all. From how this male acted, he did not yet know that they were vampires. Ashton didn't want him to run, or try to fight. It would just take up so much time if he did, "Nevermind that now." he said to the male when he said he would leave after he helped the girl, "Aurora, help the girl to the living room. Cassandra is in there as well, and show the male there too, and get the girl a glass of water." he said, "I have something else to tend to."

He glared at Cassandra when she entered, "Did you think I was joking when I told you not to move?" he asked. When he turned to go upstairs, he saw Jason trying to come down as well. The blonde-headed boy seemed to be shocked at what he saw. Ashton rubbed his head, looking between the two, "Since when do I not have order in this house? Do none of you know how to follow orders? Even if it's for your own good?" he asked, going around Jason and upstairs after he made sure everything would be alright downstairs with their new arrivals.

He did hope that Cassandra kept her mouth shut as well. The male made his way back upstairs, "Alright everyone." he said in passing each of their rooms, "We have company…you may go downstairs as normal as long as you do not talk about what we are, or show any signs of we being vampires." he said. He would let the two think about their freedom and enjoy it for a few hours before they would find out that, for the safety of his coven, he could not allow them to leave and live. He returned downstairs, taking a seat, "I am sure we can get you two anything you require…as you can easily see this home is not abandoned or haunted. We just do not go out very often." he said with a bit of a nod to himself.

He heard something going on outside though, as if someone was rummaging around. He looked at the girl, "Were you possibly followed?" he asked her, but rose to his feet anyway. No matter what was going on outside, it was something he needed to tend to. The girl had been hysterical and thus those who had been chasing her probably deserved what was coming to them. It would be his perfect chance to feed without hurting anyone as well. He left the home in quite a quick way, finding the trespassers and disposing of them in the way any vampire would, being sure that he wiped his face and teeth clean of blood before he returned to the home, "You shouldn't have any more problems. I simply requested they leave this private property." he said, the vampires and the humans who had been living there would know it was a lie, but they didn't need to tell these two humans that. Ashton was quite a bit more alert but less on edge after feeding from that body, and he felt better because of it. He looked around the room at those there. Everything still looked in order, then again, he had only been gone about two minutes.