bassluver
(?)Community Member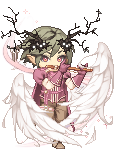 Posted: Sun, 10 Feb 2013 23:18:22 +0000
Oliver
Jackson
King

Just as Oliver has started to put on his front of flirting with this mysterious blonde woman who had seemingly just appeared in their house this morning, the younger King brother, Tom walked into the room from behind him and starting spouting off some technical sounding babble. Even though he didn't exactly understand everything his brother was saying, he knew that the boy was outing him for flirting with the woman. "Shut up you little mental case," he said, grabbing a pillow from the chair that was closest to him and chucking it over towards where Tom was sitting. Without really aiming, it hit the boy in the side of the face. Of course, it didn't really hurt since it was just a pillow, but Oliver was proud of himself for the hit anyway. "You too nerd," he then said, directing it at Aria and her comment this time. He picked up another pillow and tried to hit her with it, but completely missed this time. Yeah, Oliver wasn't exactly the most sensitive to his siblings feelings. He hadn't really been closely connected to any of his family since his mother had died. Everything just started to go down hill after that, except for his band after all. With getting into drugs and nearly failing out of his private school, the band that he and his best friend Ash had started was the only thing that had really gone well for the boy since losing his mother, but he would never let anyone else know that that event was the thing behind all of his problems. He was supposed to be the strong one.

Speaking of his friend Ash, it wasn't long before the boy showed up in the room being led by Jasper, their butler. As the other boy asked a question about the blonde woman, Oliver prepared to respond saying that he didn't know who she was, but he was interrupted by his youngest sister, Maura pushing in between him and Ash. The little seven year old was really the only family member that the teenager was able to get along with, and that was only an occasional thing. Her pranks and things may have been increasingly annoying, but at least she could be fun to be around, not like his other two stick in the mud siblings. When the question was finally answered that this woman was the new nanny, Fran, he actually remembered hearing something about her in passing with his other family members. Hearing this, Oliver relaxed his flirting stance. Judging by the fact that she was the nanny and her comment about always being 30, that meant that she was waaay too old for him. 'Gross...' he thought to himself. 'That makes her old.' So maybe 30 wasn't really old, but it was too old for the teenager.

As Aria excused herself up to her room to go do homework or whatever the nerdy girl did, Oliver decided to excuse him and Ash from the situation also. "Yeah...we've got some band stuff to do," he said, and turned around to go out of the game room and back to the kitchen. Popping open the microwave, he pulled his toaster strudels out and spread the icing on them before starting to chow down. They were lukewarm by now since they had been sitting there for a few minutes, but he didn't care since he was fairly hungry at this point. So maybe that band stuff could wait a little while until he was done eating. "So what's good?" he asked his friend, speaking with his mouth full and leaning up against the edge of the kitchen counter.
x
x

x
x
x
x