Gwendylyyn
(?)Community Member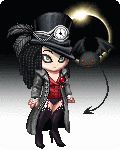 Posted: Wed, 03 Feb 2010 05:03:53 +0000
Seeking. . .
XOXOXO
Searching. . .
XOXOXOXOXOXO
Adventuring for that greatest thrill. . .
________________________________________________
Jamie
XOXO
Monroe
XOXO
Montaire
Jamie nodded a little as Ken introduced himself, thinking she may have heard the name once or twice before. When he commented on her being up so early, she simply rolled her shoulders in a light shrug. Sure, most teens weren't up so early if they had a choice in the matter, but most teens didn't wake up with nightmares like hers as often as they had been coming lately. She was truly afraid of what the pain she was beginning to go through might mean for her, especially with what she had been reading online. It had started in her shoulder, so she couldn't help wondering if it might have something to do with all the scans and everything they had put her through when her arm had broken years ago, but decided not to dwell on it for the time being. It was still aching, and that was enough to worry about as it was, especially as she tried not to show the twinges of pain in her facial expression.

When Ken handed her the remote, she smiled and set it on the arm of the chair she was curled up in. She really didn't care what they watched, and she knew cartoons were sometimes on the t.v in the morning. Whether it was Timmy or Ken who had chosen Batman, she had no idea, but it didn't matter much anyway. He was apologizing for possibly waking her up, and she was about to tell him it had nothing to do with him when he asked about her screaming. She could feel the blush that filled her cheeks. She hated that someone had heard her, that her moment of weakness had affected someone other than just her, even if only enough to make him curious. Biting her inner lip, she raised one shoulder in a light shrug as she swallowed the bite of grits she had just dropped into her mouth. "Just nightmares. I'm sorry if I scared you or anything. That's what woke me up, though, not you. I was pretty out." She smiled, hoping he would take it as a symbol of her being okay, and took another bite of her grits.

Turning back to the t.v, she found herself giggling as Robin couldn't seem to quite get things right. She felt sorry for the guy, but it didn't change how silly it seemed, watching him foil Batman's attempts at catching the Joker when he was actually trying to help in the chase. Of course, she was sure there was some reason for all the blunders, one that would probably be revealed in the next few minutes. "You like Batman, I take it?" she inquired, tilting her head to look at Ken again. She was sure her cousin would be out again any moment, since he had to be here if he had a guest, and she hoped he might be going grocery shopping at some point so she could tag along. Sure, she could go alone, but then she would have no idea what he planned on buying, and no idea what she would still need, or want, to pick up when he was done.

The thought of hitting the grocery store also reminded her of the date. Now that she was thinking about it, she remembered that the Festival was starting tonight. She hadn't been able to go before, living with her parents, without sneaking out. Tonight, she would be able to go without having to worry about any arguments concerning how late she was gone, or what crazy things she might have been getting into while she was there. Of course, that also meant she needed to pick up a Costume, or the makings for one, so she could wear it on Halloween. She was totally planning on spending a good bit of time at the Festival this year, despite the suicide-murders some of the schools were experiencing. It had nothing to do with her, so why worry about it? Sure, it sucked, and it was a bit scary to think that whoever was causing it might be there, but that just made it all the more exciting, really. She wasn't a student right now, so it wasn't like she had any reason to worry. She wouldn't be starting college until the next semester.
____________________________________________________________________
The Clinic Said I'm


XOXOXOXOXOXO

Sick

,


XOXOXOXOXOXOXOXOXO

Toxic,


XOXOXOXOXOXOXOXOXOXOXOXO

and

Impure

,
But There Isn't Any Cure For the Poor and Uninsured!