MoonlightIllusionist
(?)Community Member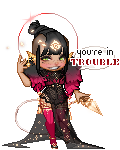 Posted: Sun, 06 Jan 2013 05:05:42 +0000
❦ J A C K S O N had noticed how crowded it had gotten in the bakery so very quickly. It was like everyone had decided to get something today, which was great for Khail, he was sure, but not so great for Jackson's patience. Not to mention he still needed to get to work, and get Ava to school before the bells rang. AND drop off that muffin to Gene. Poor guy. Jackson wouldn't know what he'd do with himself if he lost Ava -- no, he took that back, he knew exactly what he'd do; he'd find the culprit, and if Ava wasn't alive anymore, the man would suffer so severely, Hell would look like a bloody vacation, and then? Jackson would kill himself. End of story. Ava was his life. As much as he loved his friends -- what little of them he had -- he couldn't face another sunrise without his daughter with him. She was his reason for living, and he wasn't going to pretend it was otherwise.
Hearing another's voice snapped him out of his dark thought process and he looked over to find Zoey. They often times played with Ava together. Ava liked the short red-head a lot, which was fine with Jackson as long as nothing happened to his little girl. Whether or not Ava actually had any powers was not something he wanted to think about. The day they came into play would be the day Jackson had to start that training field all over again. He knew -- mostly -- how to control his own abilities. But he had spent years of his life practicing. Ava was only seven years old. She didn't have that kind of control, and Jackson wouldn't have been all that surprised if something happened. He just prayed he could keep his little girl safe. No matter what.

"Morning, Zo," Jackson spoke lightly, his eyes moving to Ian and he nodded his head lightly. 'Bout as good of a 'hello' Ian was going to get. Jackson wasn't the most social creature on the planet. In fact, since Claire broke his heart, Jackson had become more reclusive. How he managed to make any form of friends, he wasn't sure. Hell, people were just stubborn enough to talk to him enough it seemed.
Watching Ava and Khail, Jackson waited patiently. Now if it had been anyone else, his patience might have already run thin. But this was Khail. Ava loved Khail very much, just like she loved Zo and Kell.
"That's good. Don't want you having a bad morning," Ava replied, smiling as he set her down. She understood, of course. He was getting more and more customer's, and it was difficult to handle them all with Ava on his hip and back. So, she waited patiently, stepping out of the way if necessary and smiling all the while.
Ava smiled as Khail handed the pastries and such over to her father, which Jackson paid for, then smiled up to Khail when he kneeled down to her. Listening to him, Ava nodded happily, giving him a little salute of her own.
"I'm on the case!" Jackson couldn't help the light chuckle that escaped his chest at her words. A sweet girl; definitely nothing like her mother -- oh thank GOD. Jackson wouldn't know what to do with himself if she ended up more like her mother than him.

Looking to Zoey when she questioned him, Jackson nodded. "Doing fine. Just picking up some things and taking Ava to school before I need to show up for work," Jackson ran a hand through his hair before pulling back his jacket and checking his watch for the time. He really should be leaving now. "Hope things are well with you too," Jackson smiled when Ava gave Khail's hand a shake, hugged him, then wandered back over to him.
Her eyes lit up when she saw Zo.
"Zoey!" Ava smiled happily, hugging the young woman's legs. "Good morning, Zoey," Her eyes moved to Ian and she blinked a moment, blanking on his name, which made her eyes widen. She felt so bad. Okay, she could remember his name. She could. Her mouth open slightly, she waited for it to come to her. "Oh! Haha, good morning, Ian!" she waved to the tall man then looked back to Jackson and stood on his feet, holding his hands to keep her balanced. "We need to go now, pop-pop! Gene needs his muffin and I need to learn more about the different layers of the earths crust! And my singles, squares, and lines!" Ava had always loved learning. Jackson was thankful for this. She did remarkably well in school. Had honors in everything, and was above her grade level in reading, as well as math.

"Alright, munchkin," Jackson smiled lightly down to his baby girl then turned his head to look at Zoey. "Perhaps we'll talk again later. Feel free to stop by after school's over. I'm sure Ava would love a tea party," he commented before nodding his head to the two and leaving the shop with Ava in tow.
From there they went to Dr.Berne's office, dropped off his muffin for him, had quick conversation, and then left. Jackson got Ava to school on time, which left him little time to get to work. But why was he worried? He teleported into his classroom, which he unlocked and opened for the students to file in. Ah, French. At least it was something easy for him to do this early in the morning.



****************



Hours later after Jackson have picked Ava up from school, taken her to dance, and just gotten back, it was time for that town meeting. With Ava on his shoulders, Jackson walked down the sidewalk to the town hall. He hoped they had found something on Maryanne. That poor little girl. They needed to find her, and fast. The longer she went missing, the leas likely she was to be alive, or to even be found. Much like what happened with Cronus's child, Vivianne. She was still an unsolved missing-persons case.
Upon entering, Jackson found himself to be surrounded by too many people for his liking. In fact, it was a bit crowded for his tastes, so he just....allowed himself to slip out of the crowd unnoticed, where he teleported into a seat, setting Ava down beside him. Well, that was one of the good things he liked about his abilities; it got him out of things like that.

Jackson jumped lightly at the feeling of his phone vibrating in his back pocket, and he stood a moment to pull it out of his pocket and check it. It was a text message from Athena.
Flipping open the keypad, Jackson responded;

To: The b***h with the cool Tats
From: That French a*****e
Ha did sound a little 'tarded.
I'm inside w/ Ava.
Be there in a blink.

And with that, he sent the message and stuffed the phone back into his pocket. As much as he didn't like leaving Ava, he could see Cronus up on stage, which he waved to the older man and he waved back. Jackson pointed to Ava and then thumbed out like he was going to run outside real quick and Cronus simply gave him a single nod before Jackson disappeared from his seat and appeared outside, just beside Athena. He leaned against the wall a moment and chuckled. "You rang?" He smirked.


#4682b4 || #9c9c9c




Quote:

Ava Outfit

&

Jackson Outfit

Was going to wait to post everyone until I had all my posts done in my test thread but Miah is being a b***h..so...xD Here.