MoonlightIllusionist
(?)Community Member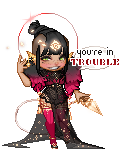 Posted: Mon, 17 Dec 2012 01:53:18 +0000
●

●

●

●

xxxx

◜

DANIELLE ━

HEART !! ◞


IF YOU WERE GONE IN ANOTHER LIFE

X

I DON'T BELIEVE I WOULD JUST SURVIVE

X

I CAN FEEL YOU NEXT TO ME

X

AND ESCAPE FROM THE WORLD I'M IN
OH IM AFRAID OF THE WORLD IM IN

X

ONE DAY I WILL SEE HEAVENS REACH

X

ILL FIND THE ONE WHO LEFT ME SLEEPING

X

EVERY WAR WAS ANOTHER SEED
IF YOU WERE GONE IN ANOTHER LIFE

X

I DON'T BELIEVE I WOULD JUST SURVIVE

X

I CAN FEEL YOU NEXT TO ME

X

AND ESCAPE FROM THE WORLD I'M IN
OH IM AFRAID OF THE WORLD IM IN

X

ONE DAY I WILL SEE HEAVENS REACH

X

ILL FIND THE ONE WHO LEFT ME SLEEPING

X

EVERY WAR WAS ANOTHER SEED


xxx

██████████████████████████████████████████████████████████████████████████████
☥ Organic manipulation; to define such an interesting power, you have to see what it can do. Danielle, unfortunately, understands what it can do; the grievances it can cause, and the joy it can bring. Had any one else gained such an influential power, Danielle was sure it would have been used for the wrong reasons. Which was never a good thing; evil people with devastating abilities couldn't be taken lightly. That power would have been used to kill, and that was something Danielle was thankful wasn't the case. Danielle wanted to use her powers to save peoples lives. Though her abilities were limited. She could only manipulate organic material, which meant extracting bullets and things through, or inside the body was...harder than just simply healing cuts, cancer, or other such things. Sometimes she couldn't help these people in time, which made her upset, yes, but she knew that not everyone would be saved. Sometimes people had to die, whether we wanted them to or not. It was just the natural balance of life.
Danielle discovered her abilities early on, and that also meant the negative aspect of them; the killing touch. At first, she didn't have much control over it. She hadn't meant to hurt anyone, but it happened. Danielle had killed a neighbors dog on accident, and that was the moment that she knew she needed to work on control. Not to mention she started wearing gloves so that she couldn't hurt anyone else. This was only after Danielle had lost her family. It explained on why she had accidentally done it; she didn't have control on her own emotions; she was still upset about loosing her mother, and her older brother, Jackson. They were her world. She was sixteen at the time that she managed to find out about her abilities. She was only thirteen when she tried killing herself, which ended up in...this giant mess. A giant, inescapable mess.

Danielle grew up in the country side of France, working with her abilities and her new parents, who were both wonderful. Danielle wanted to do so much more for them than she could give, so she studied hard and got herself into medical school. It was the only clear option for her; she had these abilities, she liked the help people; she needed to become a doctor. And that's exactly what she went to school for. However, things changed when Danielle got the idea to go visit her mother. It was brief, and the woman didn't quite recognize her. She needed new glasses, which made Danielle giggle lightly, because the woman had always needed new glasses. However, she found out things about her brother that...sparked an urge to see him. He had a little girl. And moved to America after the 'disappearance' of their father. Danielle was pretty sure that Jackson had killed him, and she wasn't really upset about it. Not after mother explained what he had done. Danielle was just thankful the woman trusted her. She never said anything about killing, no, she said Jackson punched him in the face and kicked him out of the house. And that was the last time either of them saw him. Danielle knew better. So, their father was dead now. Which meant that Jackson and their mother were no longer in any danger; none. Danielle was free to visit her family.
So, Danielle did what she felt was best for her and her abilities; she went to America to find her brother. He was now living in some Devonshire falls place, which was a rather small town, but Danielle had rather liked it when she stumbled out of the taxi and onto the side walk. It was quaint. She could understand why Jackson liked the place so much; it was a perfect place to raise a kid in.

Danielle was tired from her journey though, and she needed a place to stay, and probably something to eat. She needed to stay awake, simply because of the time difference. She needed to adjust herself to the time here, and get herself a schedule. And figure out how she was going to approach her brother.
It didn't take her long to find a place to sleep; the weary traveler Inn. She giggled lightly at the name. It was perfect for her at the moment, considering how sleepy she was from traveling. So, she got herself a room, talking briefly with the man at the counter, who introduced himself as Ian. Who was kinda cute. But she ignored that opinion for the time being and went to her room, dropping off her things. She'd probably be there for a couple days before she would be able to really talk to Jackson. There was just so much to say to him. So much to tell him, and she didn't even know how to go about starting it. What if he didn't believe her? That was probably the worst case scenario. But it was still a possibility, so Danielle needed to be prepared for that. So, she had a lot of her paperwork with her, and her birth certificate, which she managed to get through work. So, she could prove to him that she was his sister. Hell, she wouldn't mind having a DNA test done either. She could get one of those kits done no problem. And then she could prove it. But for now, she'd just try talking to him. Maybe after she got settled in some. She also needed to figure out where he lived. That was a good idea. Or where he worked. Either would be good, though she preferred to do this at his home. More private.

So, for the time being, Danielle decided to head into town to look around. It was a small place, maybe she'd spot him somewhere and be able to follow him. Or something. Or ask someone about him. That would be a good idea. She wondered if he had changed any since she last saw him. She wouldn't be surprised if he had, considering how much he had to go through, not to mention he thought she was dead. Loosing a sibling like that was always hard, and she couldn't imagine how he must have felt thinking she was dead this entire time.
It was hard enough knowing that he was still alive and she couldn't go talk to him, but thinking he was dead? That was an entirely different kind of pain. A pain she didn't even want to imagine. Jackson was her older brother, and she loved him very much. She only prayed that she could have him back in her life now that their father was gone, and Jackson was living on his own. If he'd even take her back.
There was always that option too, which Dani didn't want to think about. She would understand it though; all those years of pain. She could get it. After all that time, he might not want to deal with that kind of knowledge. But she had to do something. She wanted to make that effort; to show him she still cared, and that she did, in fact, want to be apart of his life. But for now, Danielle just wanted to get a feel of where she was, wrap her mind around what she was doing, figure out what she wanted to say, and how she was going to say it.

Walking around town with her umbrella in the rain was good. It was refreshing out there, and it helped wake her up some. Though she was sure she was going to stop in somewhere and buy herself a coffee the moment she could find some. Walking around, Dani admired all of the things there. All the shops, and the different people going by. It was strange, but she felt like she just...belonged there, you know? Like this was the right thing to do.
With a light sigh, Danielle continued to walk. She could hear music off in the distance and looked around some more. A couple shops; music, books, coffee, and a bakery. She could see a movie theater, which looked a lot like an old fashioned opera house, and homes. It was nice. Different in comparison to where Danielle lived for such a long time, but it was still nice. She stayed close to the inn, just so she could remember where she was at for now. Not to mention it was still early morning, and it was rather wet outside. But there was a bakery near by, and something sweet sounded like a good idea.


Quote:

Laptop died yesterday. I probably won't have it fixed until after Christmas. But I have my desktop. Which is...slow. And freezes. xD So replies will be amazingly slow...sorry.
█
█
█
█
█
█
█
█
█
█
█
█
█
█
█
█
█
█
█
█
█
█
█
█
█
█
█
█
█
█
█
█
█
█
█
█
█
█
█
█
█
█
█
█
█
█
█
█
█
█
█
█
█
█
█
█
█
█
█
█
█
█
OH I AM WORN BY THE WAR IN ME

X

SOMEBODY FOUND ME HERE

X

SOMEBODY SAVED ME FROM THE WORLD YOU LEFT
SOMEBODY HELD MY BREATH

X

IF YOURE GONNA CRY MY TEARS

X

IFYOURE GOING TO LET ME SEE THE SUN YOU SET
OH I AM WORN BY THE WAR IN ME

X

SOMEBODY FOUND ME HERE

X

SOMEBODY SAVED ME FROM THE WORLD YOU LEFT
SOMEBODY HELD MY BREATH

X

IF YOURE GONNA CRY MY TEARS

X

IFYOURE GOING TO LET ME SEE THE SUN YOU SET
XXXXXXXXXXXXXXXXXXXXXXX
◜
OH I AM ━
LOST & FOUND !! ◞