RawrItzAbby
(?)Community Member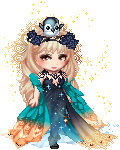 Posted: Thu, 04 Oct 2012 20:57:44 +0000
xxxx
xxxx
xxxxxxxxxxxxxxxxxxxxxxxxxxxxxx

{

Pandora Marisol Vanderwood

}
Pandora continued to walk down the road. She hadn't felt like taking her car when she left the house, but now part of her was regretting it. Maybe she would go to see Zac today? Yeah.. that was probably what she was going to do, unless he told her otherwise. Zac.. he had and her relationship was, well they were best friends. Some people told them they were attached at the hip because they were with each other so much. Often getting the whole comments consisting of "Are you two dating?" and "Will you two just date already!" But even though Pandora had a small thing for him, she didn't think he returned anything. So she wasn't about to ruin anything by telling him. Plus, even if he did... would they really want to risk ruining something as good as their friendship. If something were to happen, there was a chance they would never be the same. She pushed the thoughts to the back of her mind as she felt her cell vibrate in her pocket. Pulling it out she smiled as she saw it was from Zac. Reading it, she thought about what to type before tapping her fingers along her touch screen keyboard.

To: Zac
From: Pandora


Well that sucks. Maybe it'll get better? we can always hope. and yeah(: sounds amazing. i am currently walking.. don't really know exactly where i am at the moment. XD adventures ftw. : P Come find me. (:



Pressing the send button she shoved her phone back in her jeans and continued on her way, trying to figure out exactly where she was. A small laugh escaped her lips as she realized she had somehow subconsciously started walking in the direction of Zac's house. She guessed she somehow knew she was going to be hanging out with him today. Especially considering she did it pretty much every day. Pandora stopped for a second trying to figure out how long until she actually reached his place. Maybe about another five minutes. she had been walking for while. Starting up her walk again she ran a hand through her platinum blonde locks. "I really should've taken my car..." she thought with a small sigh.


[ooc; not my best. but im exhausted so mi brain is all sibvhivdif. i will post Parker's in a little. i gotta go do some homework. ]