NykinaEverlynn
(?)Community Member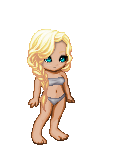 Posted: Mon, 14 May 2012 08:28:24 +0000
F E L L I N G:: Amused, distracted
C O M P A N Y:: Jet
O U T F I T::
Click
Steamy hot water sprayed down his pale bare sink. The bi-haired colored boy tilted his head down to allow to droplets to cascade over his ache neck. Sharing a bed with Bythe wasn't as easy as he had thought it might be. Turned out the women moved around quite allot in her sleep, he'd nearly fall onto the floor once during the night. Of course he was to afraid push her so he might claim more space for himself. Even if her band mates were like brothers to her, she was still a rather intimidating woman, even more so without caffeine coursing in her vines. Waking her up in the middle of the night was like signing his own death sentence, and Michi cared to much for this life to dare do that. Though the bathroom door he could hear muffled sounds of his friends speaking. However all words were drowned out by the slap of water onto the tile floor. Michi spent a good amount of time in there, the hot water felt lovely, and with all the drama that was sure to follow-instigated by him or not-a nice shower may be the only presenter he could enjoy for this time. However he couldn't spend his day in there, there was an event to get to, and a car he doubted would wait forever.

Reluctantly he turned, lifted his foot up to such off the water, before bending down to completely stop the flow. A short towel dry relieved him off all to droplets, and soon the effects of a nice hair dryer to his hair had it nice and dry. He paused only a moment to straighter his hair a bit-simply because if he didn't it would turn far to curly for his liking. Moments later he stepped out, fully clothed, whiffs of stem following behind him. He was actually rather surprised to see most of his band mates still present, mine one large male with a name that started with and A.

"Damn. You guys are moving like zombies. Come one, kick up your feet the Organized whatever can't be kept waiting."

His voice sounded a bit more chipper then was normal for him. But then Michi had a tendency to perk up at the chance of a little bit a mayhem, And spending a day with Jet may just give him that dosage of chaos he'd been lacking lately. There was a small laugh that followed his words, as he reached the dresser to snatch up his 3DS. He'd need some kind of entertainment with a bore like Jet in the car. He didn't bother to check what game was inside before he threw one final goodbye over his shoulder.

"Have fun you two. Laim, make sure you don't ware anything nice, wouldn't want it to get ruined with the drunkling."

He smiled at the singer, and then turned his eyes to the lone girl.

"And Bythe, seriously, don't kill anyone. Or if you do make sure you cover it up well."



And then he was out the door, moments later at the car. A quick peer inside confirmed that Jet was already inside, and waiting. Pulling out his 3DS from his back pocket, Michi slipped inside, not bothering to greet the black haired male.

"Alright, I'm here we can move out."

No apology for his lateness, it would seem the word 'sorry' wasn't in his vocabulary. Propping up his feet on the seat, he pulled his knees close to his chest, and rested his gaming system on top of them. With a push of the button the system came to life, finding Kid Icarus Uprising within it he promptly set to playing. Keeping the volume all the way up so that maybe Jet could enjoy the witty banter from the cute angle.

[Ooc: Sorry its really short, couldn't really think.]