Mewling Quim
(?)Community Member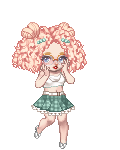 Posted: Mon, 16 Dec 2013 10:34:53 +0000
❝
o
What's stopping me?
I get stuck again.
Is it really okay?
It's never okay for me.
What's got into me?
I get lost again.
Is it really okay?
It's never going to be.
o
❞




✗✗●○

QUIM

Out of everyone in Chateaux de l'Eclipse, Irisalee really didn't think that the person who would ask her to go to the dance with them would have been Oliver Thorne, and especially not after that disastrous dance that they had experienced during the last party. Okay, so it totally wasn't disastrous, it was just really, really awkward. She thought as she fixed up her hair. She was running an hour early, which was odd for her, but her nerves were absolutely through the roof. She knew that Olly had been coming out of his shell more and more, but she never thought that it was so much so that she'd actually be going to the ball with him. He's just being nice, Risa, chill! She softly curled the bottom strands of her hair before pulling it back and pinning it, and curling the layers in it after it was pulled back. It never really took her long to do her hair at all, and only ten minutes had passed since then, so she decided that it was just fine how it was. Risa then started to apply her makeup, going for a more classic look instead of her dramatized looks as she usually would. Nope, this time she'd be soft and girly and she would suppress her inner nerd goddess until after the ball. Tonight she was going to be Cinderella.

"No, how about not. Snow White is more like it. I look more like her, I guess. Not really. Okay, so maybe a little."

Risa spoke to herself as she looked into the mirror while she applied her makeup.

Twenty minutes later, when her face was painted on and looking flawless, she disappeared from her bathroom and into her bedroom, eyeing the dress that she had laid out. It was a short party dress, formal enough for a ballroom, but casual enough just for her style. It was black with a light pink ribbon sash around the middle, and the moment she stepped in it, she already felt like a princess.

"Party princess."

She said, wiggling her body in the mirror. She figured that Jace would have a comment on what she was wearing tonight. Risa slipped into her black Louboutin's and took a few steps in them to be sure those were exactly what she wanted to wear that night. When she was satisfied, she fastened a tiered necklace on her neck and a plastic bow that matched the sash on her dress in her hair. Risa wasn't aware of how much time had passed between her putting the dress on and the knock that she heard at her door, but she quickly slipped on her diamond star cut ring and sprayed on a squirt of her favorite perfume before going to the door and seeing Melody there.

"Gosh! You look gorgeous, girl!"

She had to compliment her, not only because both of their dates were twins, but because she did look pretty amazing.

"Is it bad that I'm actually nervous?"

She asked in a small voice. Melody probably knew Oliver almost as much as Hugo did with as much as they had been hanging out together, but a small voice in the back of her head called her an idiot as soon as she asked the question, and she started to feel irritated with herself.

She and Melody made their way down the stairs, and Risa caught sight of Olly and smiled. He was looking quite handsome tonight and she felt honored to have been the one he asked right then. Risa watched as Hugo greeted Melody, not expecting to get much of a greeting from Oliver herself, but was actually shocked when he wasted no time in following suit, only instead of taking hold of her and kissing her hand as Hugo did to Melody – which Risa thought was completely overrated. – Olly put his face close to hers and she was expecting him to peck her cheek as she did to him after their first "dance", but that was not what happened at all. Oliver had licked her face, and Risa couldn't hold back her laughter any longer than the two seconds that had passed in between. She turned to him and put her hands on the side of his face as he said that the awkward part was over now.

"I'm not sure if that was just awkward or completely hilarious."

She was still giggling but they had linked arms and followed Hugo and Melody into the ballroom. Risa clapped her free hand over Olly's arm and smiled up to him once they got inside. It was completely filled already with Vampyres and there were many more coming.

"Let's just go thank the heads of each house then go find a table, okay?"

She said with a smile.

Things had gone a lot quicker than Risa thought it would and they were now seated at a corner table. They listened to Woolfred as he said that the party had begun, and she grinned to the music. It was nice to just sit here and listen along, but she stood up and held her hands out to Olly.

"Come on, lazy bones, you owe me at least one dance, and we don't even have to be around anyone while we're dancing!"

Their hands nestled against one another as she pulled him up and to the dance floor. The first song they danced to was a bit upbeat, which was good, it would be good for Olly to actually let go for once and have a nice time, and she was glad that she would be the one to help him do so. Well, she would, with the help of Melody. Okay, so with a lot of help from Melody. She thought as they actually danced through two songs together before they headed back to the table.

"Thank you~"

She said, giving him a hug before she settled down into the chair. Risa was used to high heels, but not used to dancing around in them. She smiled and nodded to Olly when he told her that he was going to get them a drink. She had a moment to herself, that was always good during a date, wasn't it?

"That's not even what this is, silly!"

She said to herself, knowing that they were just having a good time as friends.

When Oliver got back with their drinks, Risa grinned to him and took the drink from him.

"Ah! It's really cold! Thanks!"

She grinned and took a sip before setting it down on the table and smudging the lipstick that had printed onto the side of the glass after she took a drink. A few minutes passed and they just talked until they heard the music stop and a voice speak up over the crowd.

"What?"

She whispered, standing up to get a better look at things, but there were so many people there! She just couldn't see over them all! That's when she huffed and kicked her shoes off under the table, standing up onto her chair. Risa didn't seem like she was steady, but she actually was, but she thought it was really sweet how Olly stood beside her and held his hand by her just in case she needed to be steadied, but she didn't say anything right then, nor would she ever, really. She watched the events unfold before her and she just wanted to squeal! It was so sweet to see something like this outside of a comic book, and when the entire crowd was anticipating Alaric's answer, Risa gently grabbed onto Oliver's hand and held on to it until hearing the answer, and when she did, she had already figured it. Alaric would of course say yes, those two were crazy for each other. I'm still holding Olly's hand though, maybe I should fake forgetting that I was so he doesn't think I'm weird or something… Risa looked down to their linked hands before looking back up to him.

"Oh, I'm sorry, I forgot to let go."

She grinned, letting his hand go, and clasping her hands behind her back as she blinked up at him with big, innocent blue eyes.

QUIM

●○✗✗




✗✗
▂▂▂▂▂▂▂▂▂▂▂▂▂▂▂▂▂▂▂▂▂▂▂▂▂▂▂▂▂▂▂▂▂▂▂▂▂▂▂▂▂
✗✗
❝Z
oom
!
B
oom
!
B
am
!
W
ham
!
K
rrrrrrunch
!
Z
ip
!
P
ow
!
R
uuumble
!
❞
✗✗
▂▂▂▂▂▂▂▂▂▂▂▂▂▂▂▂▂▂▂▂▂▂▂▂▂▂▂▂▂▂▂▂▂▂▂▂▂▂▂▂▂
✗✗